Religion
Food donation helps provide a Happy New Year for local food banks and their clients
Dec 31, 2021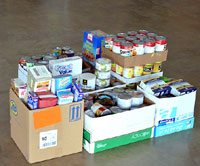 Sherman, Texas -- The Church of Jesus Christ of Latter-day Saints will deliver approximately 44,000 Lbs. of food on the morning of December 29, 2021, to 106 N Sunset Blvd, Sherman, TX 75090, in front of the MasterKey Ministries facility. This donation, arriving from Salt Lake City, UT, will be divided equally amongst MasterKey Ministries and Grand Central Station Dining Car, both of Sherman, Hands of Hope Food Bank of Durant, and Fannin County Food Bank of Bonham, to replenish supply after the demands of the holiday season.

Local members of the Church of Jesus Christ will be on hand to unload and distribute a variety of healthy canned and packaged foods, with the aid of a forklift and operator donated by Equipment Depot.

President Christian Cooper, leader of the Sherman area for The Church, believes that community collaboration is an effective way to help those in need. "Like our fellow Christians and many other people of faith," he says, "the work we strive to do as members of The Church of Jesus Christ of Latter-day Saints is guided by the two great commandments: to love God and to love our neighbors. We show our love for God as we keep His commandments and serve His children.

"We are grateful for the opportunity to partner with like-minded individuals and organizations who are working to do the same, and we are happy to help provide goods and services that can lift, strengthen, and bless individuals and families who may be struggling in their current circumstances."

Visit JustServe.org for local volunteer opportunities.