Religion
Christmas Concert at First Baptist Church of Bonham Dec. 17
Dec 17, 2021
Sherman, Texas -- Come join us for a Christmas Concert from YOUR own North Texas Concert Choir. The Christmas Concert is slated for Friday, December 17 at First Baptist Church of Bonham, 710 north Center St. Bonham, TX.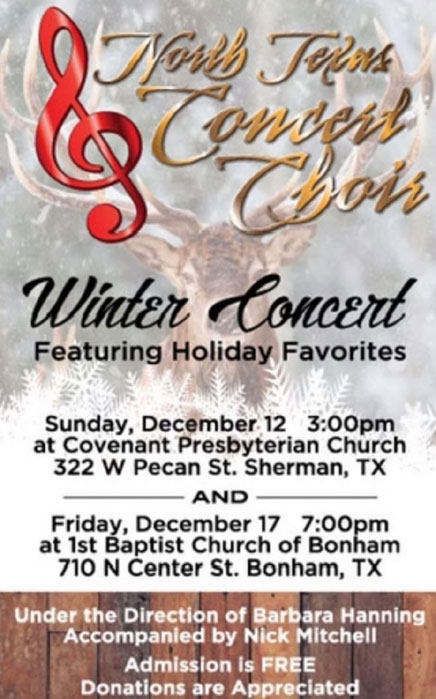 Love to sing? So do we! North Texas Concert Choir is blessed with a number of well-trained voices, but many of us are amateurs. Understand, amateur does not mean unskilled; rather, it means one who does something for the love of it. If this describes you, consider pursuing the opportunity to join us in our passion for making beautiful music.
Auditions for the spring Concert Season is on January 13 at Lakeway United Methodist church, 15015 TX – 289, Pottsboro, 75076.
Check us out on Facebook too! At North Texas Concert Chorale -- contact info. 972-302-9184