Religion
Hundreds attend 7th annual Spirit of Giving Community Christmas Party
Dec 11, 2021
Bonham, Texas -- The 7th annual Spirit of Giving Community Christmas Party was held on the parking lot of the First Presbyterian Church of Bonham on November 20, 2021.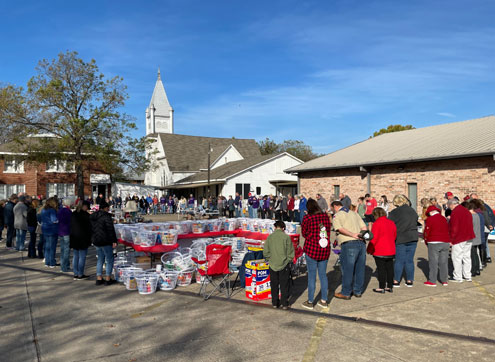 Lots of new and gently used items were given away, free of charge, to approximately 400 men, women and children in attendance. It was exciting to see more churches and civic organizations than ever before come together to make this event possible. Both volunteers and guests were richly blessed as they enjoyed the beautiful, sunny day.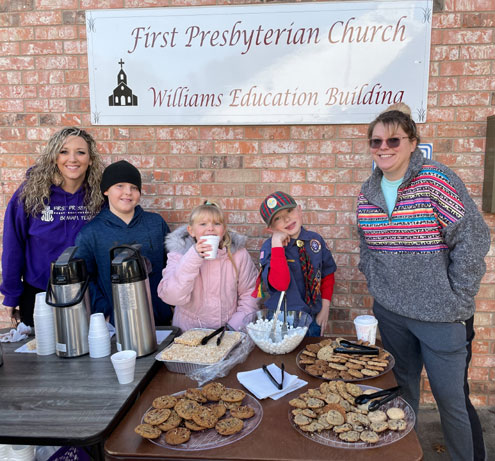 First Presbyterian Church provided home baked cookies and hot chocolate for guests as they waited in line to enter the event.
The K5 Fannin Radio Club once again served hot dogs and fixings in the Common Ground Prayer Garden. All hot dogs and fixings were donated by Brookshire's Food Store.
The Chi Lambda Sorority gave away new sets of dishes.
First United Methodist Church gave away lots of personal care items.
Living Word Church of God gave many baskets full of laundry supplies.
Sadie's Willing Workers Sunday School class at First Baptist Church gathered baskets of brand new kitchen items to give to shoppers. First Baptist Church is also greatly appreciated for once again providing their parking lot for volunteers and shoppers to use.
Solid Rock First Pentecostal Church of God gave away 250 pairs of jeans from their ministry, "Lydia's Closet".
Bethlehem Baptist Church Youth Department brought toys, clothing, and household items to give out to the shoppers.
Ivanhoe Baptist Church gave away bags of cleaning supplies.
Bonham ISD had lots of new socks to share.
Bonham Rotary Club gave away gloves and caps.
The Fannin County Retired Teachers Association provided much needed baby items.
The morning concluded with 88 bicycles given away by drawing. The bikes were donated by First Presbyterian Church members and some other individual donors.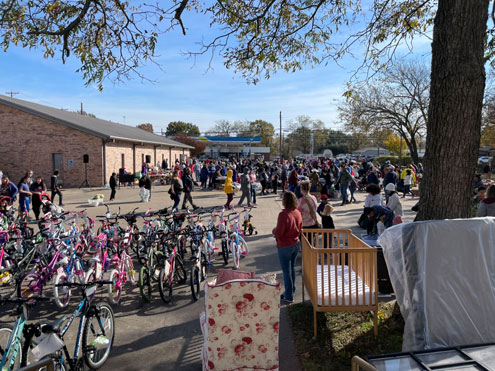 Cub Scouts Pack 54 were on hand to help with set-up, and to assist guests with loading their items.
We were also grateful to have a Bonham Police Officer on site to help with parking and crowd control.
Your church, organization, or even your family, is invited to participate in next year's Spirit of Giving event scheduled for November 19, 2022. All you have to do is identify and collect an item you would like to give away at your station. Here are some suggestions:
New bath towels and kitchen towels

New toys

New, or gently used, coats for children and adults

Christmas stockings filled with gift items

New blankets
For more information about how to be involved, contact First Presbyterian Church at 903-583-2014 or info@fpc-bonham.org.
Members of our Mission Committee will be glad to answer questions about the event, or speak to your group about volunteer opportunities.