Religion
Bonham resident awarded the Spirit of Hope Distinguished Alumni Award
Nov 24, 2021
It was such a wonderful opportunity to able to attend the Spirit of Hope Gala in Anaheim, California as I watched my mom (Bonham resident), Vonda Hamilton, receive a prestigious award on October 29. She was awarded the Spirit of Hope Distinguished Alumni award for her work within the Deaf community through Expressions of Emmanuel, and they highlighted her most recent books which feature ASL and idioms. (Letting the Cat Out of the Bag Learning ABC Idioms with ASL, As Easy As 1 2 3 No Gray Area Learning Number and Color Idioms with ASL)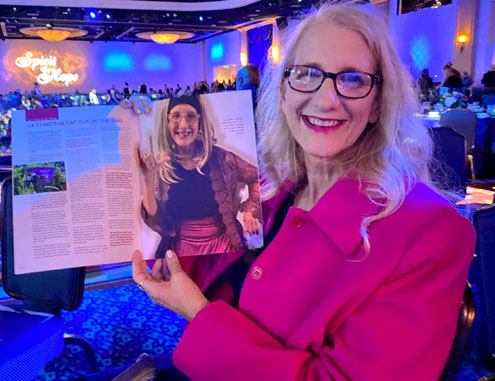 Vonda Hamilton
My mother graduated with her Master's in Ministry (Intercultural Studies) from Hope International University in 2015. She graduated with her master's degree 27 years after she had graduated with her 2 bachelor degrees from Ozark Christian College in 1988. The Spirit of Hope Gala was held at the Disneyland Hotel where she and one other alumni award recipient were celebrated. The award is in recognition and appreciation for exemplary commitment to serve the Church and impact the world for Christ. Her work was featured in Inside HIU The Magazine of Hope International University (Fall 2021).
She has poured out her whole life to serve others tirelessly, and she continues to want to serve Jesus with her whole heart. My mother is very outgoing, but she is also deep down a bit shy. She began serving the Lord as a child. She became involved in Deaf ministry at the age of 19. She knew that if she could learn to sign that this would show the power of God because she had always believed herself to be clumsy, and the speed of ASL seemed impossible to her. God has certainly shown His power in her life. God will use us despite our weaknesses to accomplish His purposes. She has traveled on mission work in 46 states and 34 countries. She taught the Deaf Ministry program at Ozark Christian College for over five years. She was the lead teacher for a Deaf Christian Preschool. She taught sign language as a foreign language at two Christian high schools. She was a professional interpreter and also a radio disc jockey for 5 Christian stations. She helped to found a Deaf Church in Tulsa. She had a substantial part in the Finger Food Café movies featured in DVDs and on TV. She was the sign language Bible teacher for Miss Vonda's Big Bible Stories :The Book of Jonah. She founded Expressions of Emmanuel (EOE)in 2002 upon moving to Bonham. EOE focuses on sharing Christ with the Deaf Community by Video (Producing Bible lessons, testimonials, dramas, and Christian songs in sign language for social media and on DVD), Outreach (Church outreach, Deaf conventions, mission trips, women's retreats, VBS programs, camps, ….), and Writing (Social Media Posts, Magazine/Newspaper articles to bring awareness, and Books with accompanying DVDs). My mother is so thankful for family. My Papa (Steven Hamilton) is a godly man whose years of experience in writing, film, and television has enabled him to wonderfully assist my mother and make an impact for Christ in the Deaf community. My mother considers motherhood one of her greatest callings as she raised me and my two adopted Deaf siblings, Andres and Cloudi. I was so glad that I could accompany her to this God honoring Gala. Praise God!
We had the best time together that weekend, and it was such a privilege to have the opportunity to celebrate my mom! With Giving Tuesday around the corner if you're interested in supporting their efforts finically to work alongside those in the deaf community or to purchase one of the books Vonda has written please feel free to check out their website at https://expressionsofemmanuel.com.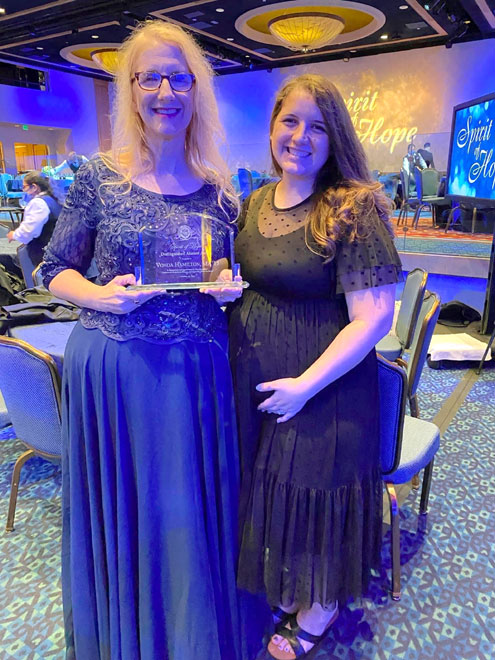 (L-R) Vonda Hamilton and Selah Burnett Massey
Ultimately my goal in writing this is to celebrate a remarkable woman who received a well-deserved award out of thousands of possible candidates because she has given her life to serving others in the deaf community. May we all remember that God can use us if we are willing to answer the call!