Front Page
Fannin County Commissioners Court lifts burn ban
Oct 14, 2021
Fannin County, Texas -- A regular meeting of Fannin County Commissioners Court was held Tuesday, October 12, 2021. Fannin County Judge Randy Moore was absent in order to attend a conference, but all four commissioners were present.
The invocation was given by Rickey Granstaff, pastor of Ravenna Baptist Church, and pledges were led by Fannin County Pct. 3 Commissioner Jerry Magness, the county's senior commissioner who presided in the absence of the county judge.
*****
A brief discussion regarding the ongoing restoration of the 1888 Fannin County Courthouse included:
Exterior
Finishing up on veneers and patching along the west side of the building.

Installed new stone pilasters at South entry.

Stone veneers installed along the south area along bottom of the building.

Roofers back on site to work on cornice at each entry.
Interior
Installing veneer gypsum plaster on various areas.

Electrical ceiling rough-in complete, power for clocks and lights installed to cupola.

Drywall installation on 1st level.

Tape, bed, and paint in courtroom and second level ceilings.

Install remaining windows in courtroom and all window sashes. Beginning trim work on third level.
*****
With rain in the forecast, Fannin County Commissioners Court voted to lift the countywide ban on outdoor burning.
Fannin County Emergency Management Coordinator Troy Hudson advised county residents that, on October 18, 2021, the Forest Service has prescribed burns scheduled at Caddo Grasslands and in the Ladonia area.
*****
Stan Lynch of Freese and Nichols, Inc. gave a brief overview regarding a long-term water study for Fannin County, including existing water sources and areas of projected shortages, and Fannin County's role in cooperation with North Texas Municipal Water District and Upper Trinity Regional Water District to develop a comprehensive water supply system.
Groundwater supply is limited and a strategic vision will be needed to meet the forecasted need in a fast-growing region.
Mr. Lynch said the next steps in this strategic vision will be to identify water issues in the county, document long-term plans, identify potential water supply gaps, and identify how the county could assist in addressing supply gaps.
Key objectives include encouraging stakeholder involvement and developing a consolidated countywide approach.
Lynch recommended a proactive approach by the county to address challenges in a timely manner.
Newt Cunningham, an announced candidate for county judge in the 2020 Republican primary, had questions for Lynch. Mr. Cunningham wanted to know if increased salinity will begin to make groundwater unusable in 10-20 years and Lynch answered in the affirmative.
Cunningham asked if there could be grants to fund the construction of a water treatment plant and Lynch said that is a possibility. That scenario is of interest to Bois d'Arc MUD, which can take water from Bois d'Arc Lake, as well as the City of Ladonia, which can take water from Lake Ralph Hall for a limited number of years. The bottom line would be, what is the most economical water delivery system, treat it and incur those associated costs or purchase treated water from a regional water district?
Cunningham also questioned who is sponsoring Lynch's work and was told it is the county.
*****
Local 4-H members, along with Jessica Richards, M.S., Fannin County Extension Agent - 4-H & Youth Development, Texas A&M Agrilife Extension Service, gave a presentation regarding the Texas A&M AgriLife Extension 4-H and the Youth Development Program.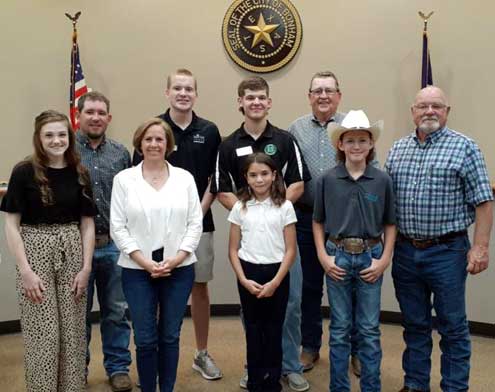 Fannin County Commissioners Court poses with 4-H members.
*****
Fannin County Indigent Healthcare Director Mark DeMay gave an in-depth report regarding Indigent Healthcare for September 2021.
*****
Fannin County Commissioners Court approved the Treasurerís Financial Report for September 2021, as well as the Treasurerís Investment Report for September 2021.
*****
The office of Justice of the Peace Precinct 3 reported $6,385.00 collected for September 2021.
*****
The Fannin County District Clerkís Office reported collections for the months of July 2021 ($43,372.16), August 2021 ($30,410.18) and September 2021 ($24,975.24).
*****
Fannin County Commissioners Court approved a one-time severance of 2.789 acres from a 7.336-acre tract on South Main in Ravenna, Texas.
*****
Commissioners voted to award the culvert bid to Wilson Culverts.
*****
Fannin County Commissioners Court approved payment of bills.
*****
Three more Fannin County residents died last week from complications related to COVID-19, raising the county's total to 139 since the onset of the pandemic.