Lifestyles
Bonham Public Library installs permanent Story Walk
Sep 24, 2021
Bonham, Texas -- The vision has become a reality. The Bonham Public Library created a new way for families to read together while getting exercise. Thanks to the M.W. & Fair Miller Foundation, the Bonham Public Library was able to make their temporary Story Walk into a permanent Story Trail. Thanks to the City of Bonham's Park and Recreation Department that vision became a reality.
The temporary ones were put up during the lockdown for families to spend time reading together while enjoying the park. These were just around the playground area, but the new permanent ones are all along the trail. The library was able to purchase twenty aluminum posts and frames for a Story Trail at Powder Creek Park.
The Story Trail is a fun and engaging way for families to combine a love of nature and a love of reading. Walk the trail while you read a picture book and enjoy interactive facts and questions as you go. A Story Trail is a delightful way for families to enjoy reading and the outdoors at the same time. The Story Trail promotes literacy, health, reading, movement, and exercise. Each month we will be putting in a new story.
"Getting outside the house, getting off the tablets, getting off the computer and spending some time in nature and reading a book along the way, that's what it's all about," Library Director John Hayden said.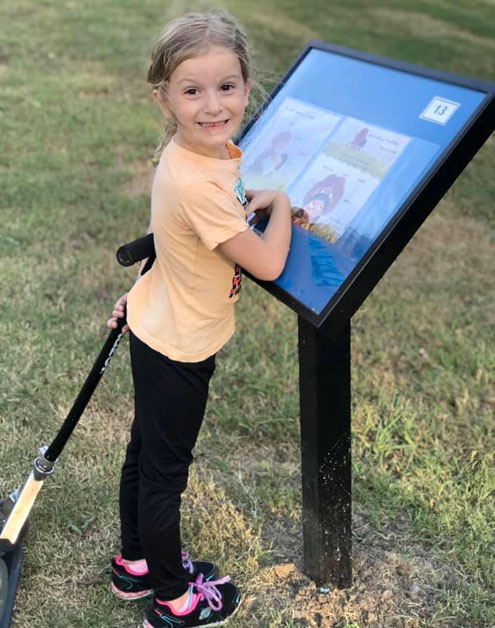 Hop, skip, jump, or run to each new page and enjoy fun learning activities along the way.
So go and enjoy the fresh air, a stroll...and a story! This literacy adventure builds reading skills and creates memories, from start to finish for all ages.