Local News
Fannin County citizens asked to be extremely cautious with any outdoor burning
Sep 23, 2021
To The Citizens of Fannin County: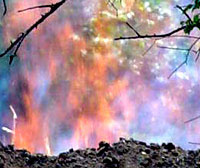 The Fannin County Office of Emergency Management is strongly encouraging the citizens of Fannin County to be extremely cautious with any outdoor burning for the next few days. Low humidity levels and winds near or above 15 mph are especially dangerous for creating wildfire environments.

We ask everyone to be particularly mindful of any equipment or outdoor work that may cause a spark or ignition source that could go unnoticed. High winds can cause grass fires to spread very quickly and can cause firefighting to be difficult as well.

Please help keep our county safe!