Lifestyles
Sherman resident competes against top-ranked eaters at the Padrino Foods World Tamale Eating Championship
Sep 25, 2021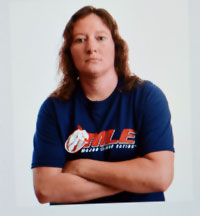 Lewisville, Texas -- Sherman, Texas, resident Jocelyn Walker will square off with the nation's top competitive eaters at the Padrino Foods Annual World Tamale-Eating Championship Presented By Market Street on Saturday, September 25, 2021, at high noon, at the Lewisville Western Days Festival, 151 W. Church Street, Lewisville, TX.

Walker will take on the #2-ranked competitive eater in the world, Geoffrey Esper and the current reigning champion, #5-ranked Miki Sudo from Tampa, FL. Other top-ranked eaters will include #9-ranked Michelle Lesco from Tuscon, AZ; #10-ranked Gordon Hazzard from Nashville, TN; #12-ranked Steven Hammond from Kirkland, WA, among others.

"We're thrilled to be back in Lewisville for another Tamale-Eating Championship," said Sam Barclay, Major League Eating emcee. "With an in-person crowd set to cheer the eaters on this year, we are destined to witness a record-setting performance."

At last year's event, Joey Chestnut, the #1-ranked eater in the world, ate 93 two-ounce tamales in 10 minutes for the win. The effort was only two tamales shy of the world record in the discipline, set by Geoff Esper in 2019. Esper's record of 95 will be on the line this year.

About The Western Days Festival
In Historic Old Town Lewisville!

The Padrino Foods World Tamale Eating Championship Presented By Market Street* is a highlight of the annual Western Days Festival in historic Old Town Lewisville, TX. The Lewisville Convention and Visitors Bureau organize this MLE-sanctioned competition. Market Street is the official provider of contest tamales at the World Tamale Eating Championship. Past champions of this event include Geoffrey Esper, Darron Breeden, Adrian "The Rabbit" Morgan, Tim "Eater X" Janus, Sonya Thomas, Joey Chestnut and Miki Sudo. Other festival events include live music, the Cowboys and Chrome Car Show presented by Huffines Auto Dealerships Lewisville, an art exhibit, children's activities and more.

About Major League Eating

Major League Eating (MLE), the World governing body of all stomach-centric sports, conducts more than 80 events annually, including the Nathan's Famous Fourth of July International Hot Dog-Eating Contest in Coney Island, N.Y. The competitive eating community, which numbers more than 8,000 veteran and rookie athletes, travels the World in search of top titles and the glory that they provide. For more information, visit www.majorleagueeating.com.