Local News
Lake Ralph Hall Public Open Houses in Honey Grove and Ladonia
Sep 14, 2021
Fannin County, Texas -- Public Open Houses for planning for Lake Ralph Hall will be held on Tuesday, September 14 in Honey Grove and Ladonia. This is the opportunity for citizens to make their wishes known about development and recreational amenities around Lake Ralph Hall.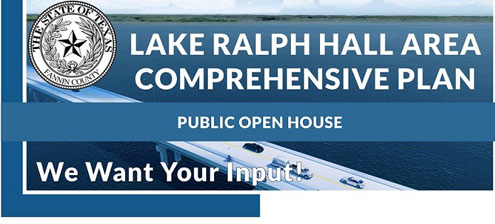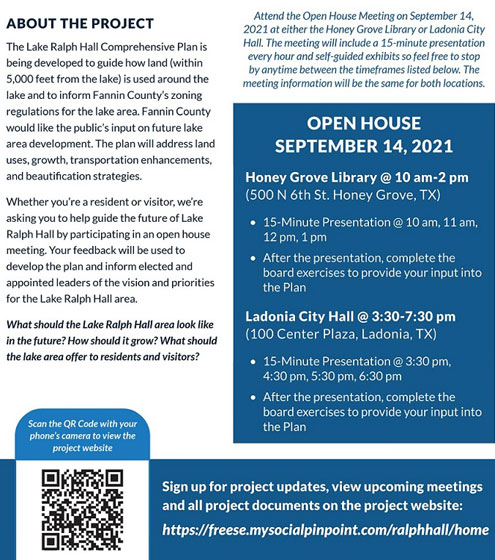 Freeze & Nichols, the contractor paid by the Upper Trinity Regional Water District to prepare a Comprehensive Plan for Fannin County, has also created a website where citizens can provide their opinions. https://freese.mysocialpinpoint.com/ralphhall/home
Fannin County citizens have been told for decades that the two new lakes will bring millions of dollars into the local economy. However, this will be true only if lakeshore development and recreational amenities are allowed.
To date, the Upper Trinity Regional Water District has not reaffirmed its 2013 commitment for lakeshore homes with private boat docks or made commitments for a marina, park areas or public fishing docks. Upper Trinity has made a commitment for a new Fossil Park and for an unspecified number of public boat launch facilities. There are also significant questions that need to be addressed regarding the availability of water hook-ups and electricity for new development. There has also been no commitment made by Upper Trinity for support of law enforcement expenses.
The Freeze & Nichols website has two lovely photos of potential lakeshore development which show lakeshore homes with boat docks and a public park. Whether this becomes a reality is still to be determined.


Citizens are encouraged to attend the open houses or make comments via the website to ensure that the economic benefits and recreational opportunities promised to Fannin County citizens are realized.