Entertainment
'Restoring the grandeur' - 1888 Fannin County Courthouse enters exciting phase
Aug 25, 2021
Fannin County, Texas -- Winston Churchill once said, "We shape our buildings and thereafter they shape us."
Fannin County residents can hope Churchill's wisdom holds true in the case of the spectacular 1888 Fannin County Courthouse that is being restored.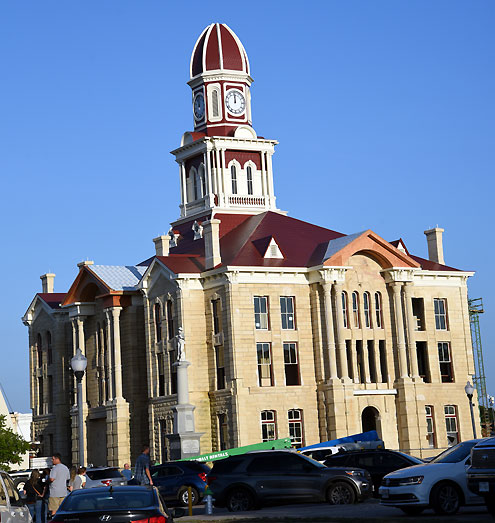 photo by Allen Rich
Texas is home to the finest collection of courthouses in America, with 225 courthouses more than 50 years old and 80 built before the turn of the century. The Fannin County Courthouse was designed by prominent architect W.C. Dodson and built in the late 1880s, a period described as the golden age of Texas courthouse construction.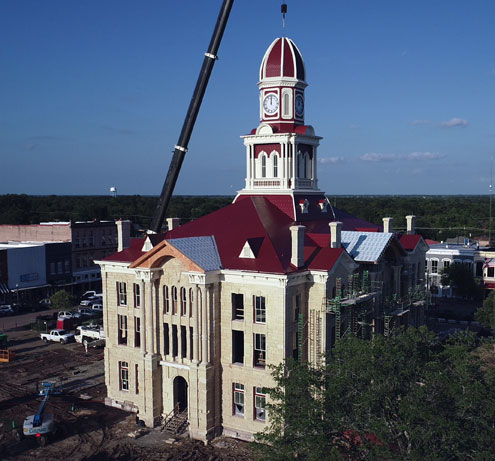 photo by Kyle Porter
For the first time in almost 92 years, people arriving in downtown Bonham will see a cupola adorning the roof of the 1888 Fannin County Courthouse. The original clock tower and roof were destroyed by a fire December 31, 1929. In 1965, the stately limestone structure was covered in sheets of lueders stone in an effort to give it a more modern look.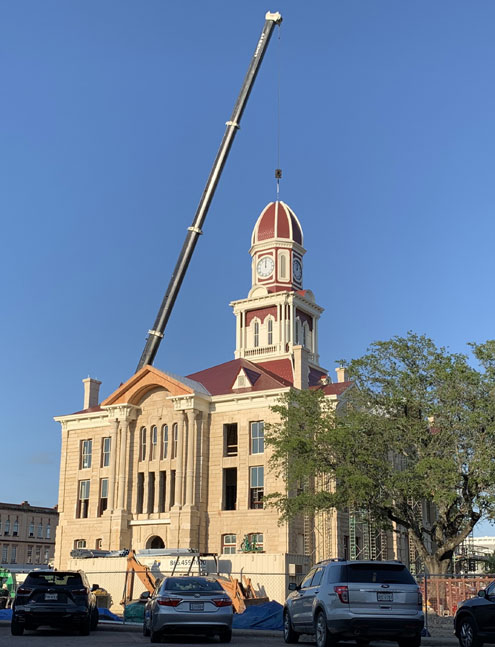 photo by Kyle Porter
When the National Trust for Historic Preservation included Texas courthouses on its 1998 list of "America's 11 Most Endangered Historic Places," the Texas Historic Courthouse Preservation Program was set up to award grants that could save these regal "Temples of Justice" from falling into disrepair and eventual abandonment. Texas Historical Commission would eventually award approximately $6 million in grants to help restore the 1888 Fannin County Courthouse.
In Fannin County, the courthouse restoration initiative gained momentum when Tom Scott and Barbara McCutcheon addressed a June 2007 meeting of Fannin County Commissioners Court.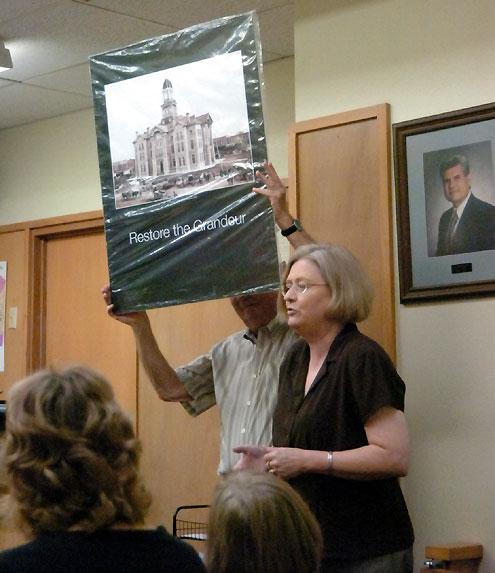 The late Tom Scott holds a photograph of the 1888 Fannin County Courthouse as Barbara McCutcheon addresses the Fannin County Commissioners Court in 2007. photo by Allen Rich
"We want to restore the grandeur and go back to the 1888 courthouse," Ms. McCutcheon told commissioners. "Red River County did it. Lamar County and Hopkins County restored their courthouses. We can do it, too."
Commissioner Dwayne Strickland stated he had been approached by several constituents who were concerned about the appearance of the courthouse.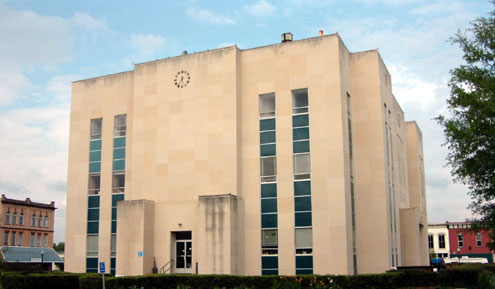 Fannin County Courthouse in 2007 - photo by Allen Rich
"I would make a motion that we start the process," Commissioner Strickland announced.
Commissioner Pat Hilliard seconded the motion. Commissioners Ronnie Rhudy and Stan Barker and Fannin County Judge Derrell Hall also voted to begin the restoration process, making it a unanimous decision. A spontaneous round of applause swept through the crowded courtroom on that pivotal day 14 years ago.
But that celebration hardly compared to the excitement in downtown Bonham August 20 as the towering cupola was assembled atop the courthouse that is only a few months away from being completely restored. Sirens wailed, horns honked, there were high-fives and tears in many eyes.
The late Jim Lovett, a noted historian and longtime 6th District Judge, summed up this project eloquently in a bit of advice he offered at a meeting of the Fannin County Historical Commission several years ago.
"That courthouse was a magnificent gift from your ancestors," Judge Lovett remarked. "What better tribute could you pay them than to preserve it."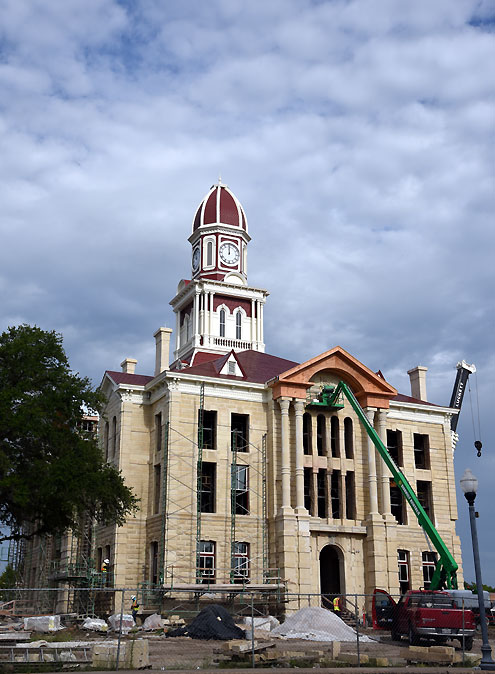 East side of the courthouse - photo by Allen Rich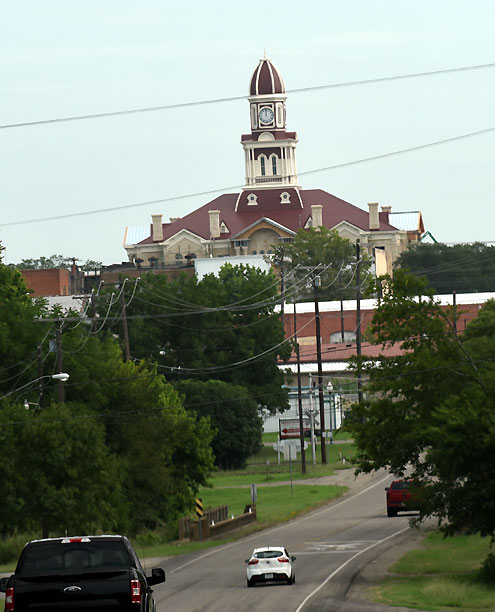 View from Hwy 78 south of Bonham - photo by Allen Rich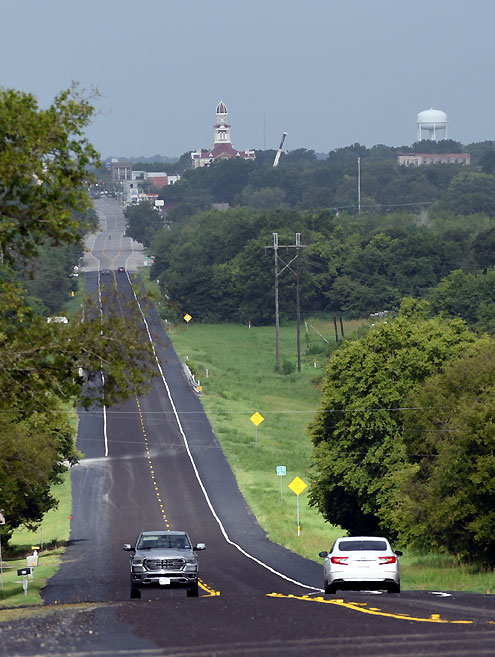 Distant view of the courthouse from Hwy 56 east of Bonham photo by Allen Rich