School News
Southeastern, Arkansas Colleges of Health Education sign agreement to assist in interview process for students
Jul 31, 2021
Durant, Okla. – Thanks to a new agreement, Southeastern Oklahoma State University has created another direct path to medical school for its undergraduate students.
Officials from Southeastern and the Arkansas Colleges of Health Education (ACHE) recently signed an education affiliation agreement. ACHE, located in Fort Smith, Arkansas, is a private, graduate studies institution of higher education and is the parent institution to the Arkansas College of Osteopathic Medicine, the School of Physical Therapy, the School of Occupational Therapy, and the Master of Science in Biomedicine program.
Under the agreement, Southeastern students who meet certain criteria will be guaranteed an admissions interview with the ACHE programs.
"This agreement will have a significant and positive impact on our students,'' said Southeastern president Thomas Newsom. "It takes the worry out of getting a medical school interview, and increases the chances for acceptance into the programs. Our biological sciences and chemistry departments have a long history of producing top-line graduates which has been demonstrated by the many Southeastern alumni currently enjoying careers in the health sciences field. So this agreement is truly a win-win situation for Southeastern and the Arkansas Colleges of Health Education.''
"We are proud to partner with Southeastern Oklahoma State University," stated ACHE CEO, Kyle D. Parker, JD. "ACHE is committed to educating exceptional students, especially those students located in our service area. We look forward to working with Southeastern and their outstanding students."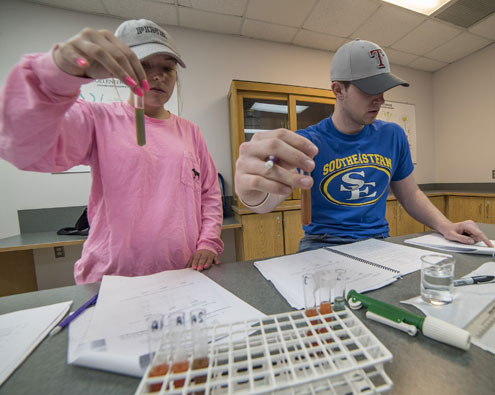 Southeastern and the Arkansas Colleges of Health Education have recently entered into an agreement to assist students interested in a career in the health field.
In recent years, some six Southeastern students have been accepted into the ACHE programs.
Southeastern has a similar agreements with the Oklahoma State University Center for Health Sciences Center.
Over the past several years, a large number of Southeastern graduates have gone on to successfully complete medical school and enjoy careers in osteopathic medicine, physical therapy, and occupational therapy.
Southeastern also offers a pre-nursing program with a history of very successful outcomes.