Sports
White River fishing report by Cotter Trout Dock
Apr 12, 2021
Cotter, Arkansas -- The White River is flowing very fast and deep through the Arkansas Ozarks, so be prepared to add weight to your line, go deep and get ready for a fight because the trout have never been healthier and stronger. Some say the browns are getting lazy, though; they don't have to search for food since it's coming right at them all the time from banks saturated with the high water. So, put your bait right in front of them and flash it around.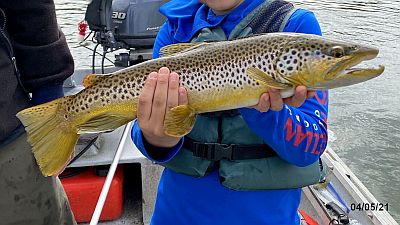 From Wildcat Shoals to the top of Buffalo Shoals, White River anglers have been well rewarded when fishing upstream or down from Cotter. The big winner this week was the #5 Rainbow Rapala Countdown. But we've had a day or two of very finicky fish; keep moving and you'll come across a deeper hole where you'll find the trout getting out of the fast water. Lower your weighted line with a bit of shrimp as close to the bottom as you can and you'll likely feel a tug before you reach the bottom.
Come to the river and discover your little haven of serenity. We'll help you find your way there.