Local News
McKinney Fire Department reaches important milestone with 20,000 vaccines administered
Feb 26, 2021
City staff and community members come together
to vaccinate the community against Covid-19
McKinney, Texas (Feb. 24, 2021) – The McKinney Fire Department's vaccination hub at McKinney ISD Stadium and Community Event Center reached a significant milestone. Since beginning administering vaccines just before Christmas, the Fire Department will give its 20,000 vaccination today.
"The members of the McKinney Fire Department are committed to caring for the health of our community, and we're celebrating this milestone today because it demonstrates that commitment is stronger than ever," said Fire Chief Danny Kistner. "This hub is a tangible way we can fight back against Covid-19, and each vaccine administered gives us hope we are one step closer to beating this disease."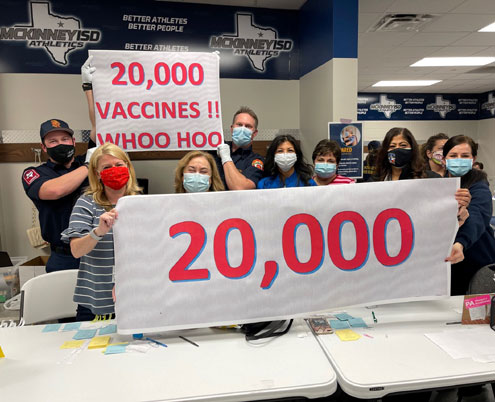 McKinney's hub has been a joint collaboration within the community between the City of McKinney, Collin County, McKinney ISD, Baylor Scott & White Medical Center McKinney, and Medical City McKinney. City staff, including those in the Fire and Police Departments, and the Office of Emergency Management, Housing and Community Development, Communications and Marketing, Information Technology, Public Works, and multiple volunteers across all city departments have provided support for the hub. The city also uses volunteers from its Citizen Corp partners, including the Citizen's Fire Academy Alumni Association (CFAAA) and Community Emergency Response Team (CERT).
"This is a significant moment, not just for our hub and first responders but for everyone who lives in McKinney and Collin County," said Mayor George Fuller. "We are overjoyed to reach 20,000 shots in arms, each representing another step in returning to a more normal way of life. I couldn't be more proud of the people who have come together to make this happen, and it exemplifies how well we can coordinate our resources to serve our community best. "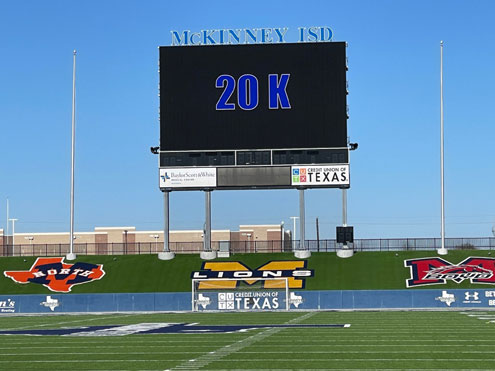 The McKinney Fire Department continues to vaccinate those in phases 1A and 1B on the Collin County waitlist, and vaccines are given by appointment only.