Farm and Ranch
USDA-NRCS plant materials centers in Texas recognized for exceptional work
Feb 18, 2021
Temple, Texas, Feb. 16, 2021 — Each year, the USDA Natural Resources Conservation Service (NRCS) recognizes plant material centers and employees who make significant contributions to the program.
"Staff at our Texas plant materials centers excel at developing and delivering vegetative solutions and conservation technologies for NRCS customers to use in conservation programs to solve natural resource concerns," said Charles Kneuper, NRCS state resource conservationist for Texas.
In 2020, Texas received three award designations:
John Reilley, NRCS plant materials center manager (retired), E. "Kika" de la Garza Plant Materials Center, Kingsville, Texas, received the Meritorious Service Award for more than 36 years of outstanding service. He was an innovator and leader in the program and promoted conservation plants and plant technology to field staff, government colleagues, collaborating organizations, and private landowners to improve natural resources throughout South Texas.
Melinda Brakie, NRCS soil conservationist, East Texas Plant Materials Center, Nacogdoches, Texas, received the Meritorious Service Award for more than 32 years of service. Brakie has been instrumental in collecting data and preparing information for many of the East Texas Plant Materials Center's plant releases. She has authored plant guides, technical notes, and other documents from the Plant Materials Center developed to transfer information to NRCS planners and customers.
Brandon Carr, NRCS plant materials center manager, James E. "Bud" Smith Plant Materials Center, Knox City, Texas, received the Outstanding Employee Award for his exceptional leadership in developing a highly efficient and outstanding center focused on NRCS priorities and delivering products that support field staff and agency conservation efforts. He has fostered the growth of employees and external partnerships that extend the capacity of the center to succeed.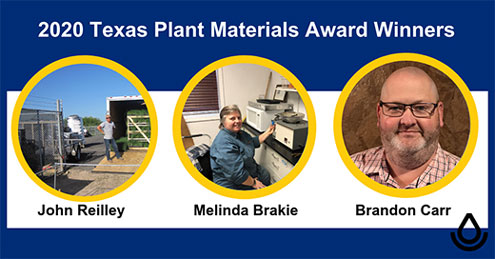 The NRCS Plant Materials Program selects conservation plants and develops innovative planting technology to address today's natural resource challenges and maintain healthy and productive farms and ranches. The program includes 25 Plant Materials Centers operated by NRCS, cooperating programs operated by others, and many federal, state, and local partners.