Local News
Forest Service conducts controlled-burn operations
Oct 19, 2021
Lufkin, Texas, October 18, 2021 – The National Forests and Grasslands in Texas is conducting a controlled burn on the Bois d'Arc unit of the Caddo National Grassland north and south of FM 409 and areas east of FM 2029 and on the Ladonia unit 45 located north of Hwy. 34 and east of FM 68 between October 18-22, 2021.
The Caddo-LBJ National Grasslands are two separate grasslands managed as one unit. This burn area, in total, is about 8700 acres and covers several units in the Bois D'Arc area and unit 42 in the Ladonia area of the Caddo-LBJ National Grasslands.
Bois d'Arc campground, Coffee Mill campground, and West Lake Crockett campgrounds will be closed 10/18-10/22 (noon).
This controlled burn is being conducted in partnership with the Texas Parks and Wildlife Department, Texas A&M Forest Service, and the Caddo-LBJ National Grasslands. The collaborating parties worked together to formulate a plan of action to meet multiple objectives in the area. This was a joint effort to implement shared stewardship on a unique section of the Caddo-LBJ National Grasslands.
Implementing controlled burns to this fire-adapted landscape will reduce fuels and protect grasslands and neighboring lands from wildfire, benefit native wildlife, and improve the overall quality and productivity of this area. This project is an example of active resource management through collaboration and partnerships to increase the health and productivity of our nation's national grasslands.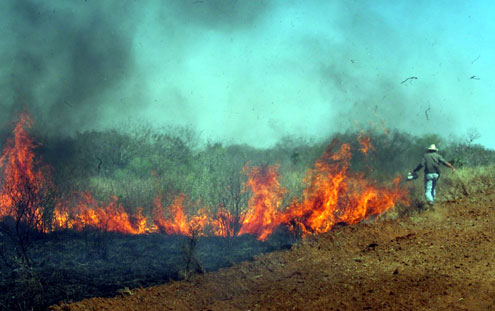 "Our primary concern is for the safety of the public," said Caddo-LBJ National Grasslands District Jeff Stoney. "We want the public to know what we're doing when we conduct burns in the national grassland. These are controlled fires conducted by experienced, qualified firefighters who work as a team to ignite, monitor, and ensure that the fire stays within the control lines."
Controlled burning dramatically reduces the chances of a wildfire spreading out of control. In addition, burning underbrush promotes new growth of tender vegetation beneficial to wildlife such as deer, turkey, and birds. And as urban development continues to edge closer to the grasslands, controlled burning also protects subdivisions, businesses, and transportation corridors from potential wildfires.
The Forest Service is burning only when weather conditions are most favorable and based on daily fire weather forecasts from the National Weather Service. Forest Service fire personnel consider weather conditions and fire behavior before conducting a controlled burn.
For those with respiratory problems, we recommend closing windows and ventilating their homes by using the air conditioning or heating system. Some may want to leave the area until the smoke clears. We encourage anyone sensitive to smoke to contact the local Ranger's Office to provide information so we can notify you in advance of planned burns in your area. If drivers encounter smoke on the road, they should reduce their speed and use low beam lights to become more visible to other traffic.
If you have questions or concerns about this prescribed burn, please call the Caddo/LBJ District Office at (940) 627-5475.
For more information, visit our website: www.fs.usda.gov/texas.