Obituaries
Grady Giddiens
Dec 12, 2020
Grady Earl Giddiens
(September 21, 1926-December 11, 2020)
Bailey, Texas -- After 94 years of hard work, of faithful service to his church, of innumerable acts of service to his community, of charitable gifts to those less fortunate, of faithful devotion to his family, and of love for everyone he ever met, Grady Giddiens has entered Heaven.
Grady was born the second son to Jake and Eva Giddiens in Bailey, Texas, where he lived his entire life in Bailey and Bonham. He had one brother, Robert Neal Giddiens (Billie), and two sisters, Louella Giddiens Mankin (B.J.), and Lela Beth Giddiens Tillery (Rex).
He married the love of his life, Joyce McCollar, the week after she graduated from high school, in May, 1946. She was the second youngest of nine children, and he was added to that large, but extremely close knit family. That family stayed close, with family reunions that lasted for over 60 years. Joyce and Grady proved to be a lot of the glue that kept the "McNines" reunion going.
His mother once remarked, "I never worried about Grady, he can figure out how to make a living on an empty parking lot!" That certainly described him. He worked tirelessly his entire life, six and a half days a week, stopping only on Sunday mornings to attend and serve First Baptist Church in Bailey, Texas. There, he served in every capacity from record keeping, to building maintenance, to song leader. Sunday nights, Wednesday nights, and church revivals found him faithfully serving also. He was a member of that church for his entire life.
His first job as a young teenager was hauling multiple 300-pound ice blocks daily to people's homes to keep their iceboxes cold (before electric refrigerators). People would know when he was coming— they could see the cloud of dust drawing near, as he sped from farm to farm.
After World War 2, Grady and his older brother, Robert Neal, purchased the Bailey Grocery Store and Grady also began working at the Piggly Wiggly store in Bonham. Eventually, Grady would own and operate both stores for over 40 years, along with wife, Joyce.
In 1983, at age 57, Grady sold out of the grocery business, but he did not stop working. He and Joyce purchased and renovated numerous rental properties, rented out their commercial buildings, and began traveling and volunteer work with a group of Baptist retirees headquartered in Dallas. Grady and Joyce travelled all over the United States, Japan, South America, and Africa, spending weeks and months each year, building churches and mission homes, eventually helping build over 50 church buildings! Through the years, they managed to visit every State in the Union!
He always had a love for cars, trucks, and recreational vehicles. During his life, he owned over 100 cars and trucks, buying and selling something every few months! His first love was his first car, his 1936 Ford Convertible. That car now resides in the Fannin County Museum in Bonham, as a tribute to Grady, and is now a gift to the citizens of Fannin County as a reminder of earlier times!
Grady is survived by his three children, Ron Giddiens (wife Janie) of San Angelo, Kathy Giddiens Coburn (husband Pete) of Missouri City, and Robbie Giddiens Atkins (husband Kenneth) of Bonham. He is also survived by one loving sister, Louella Giddiens Mankin.
Additional family members are six grandchildren: Scott Giddiens (Iva), Jennifer Giddiens, Josh Coburn (Allyson), Courtney Coburn Frank (Burt), Matt Atkins (Dawn), and Luke Atkins (Amanda), 16 great-grandchildren, sister-in-law Mary John Slaymaker, brother-in-law Rex Tillery, and numerous cousins, nieces, and nephews.
Grady's wife Joyce died in 2010, after 64 years of marriage. Since that time, Grady had a very special friend and companion to share his life, Helen Robinson. Helen and her husband Frank had been years-long friends of Joyce and Grady. Helen will always be a special part of the Giddiens family.
"Grady Earl", "Jake", "Dad", or "PeePaw", as he was called by Friends and Family, will always be remembered as a Good Man. He was a Lifetime member of the Ashley Masonic Lodge #681. In February, 2000, he was awarded The Golden Trowel Award for exceptional service, the highest award a Lodge can bestow upon an individual member. He also served on the Board of the Arledge Ridge Cemetery Association.
He worked hard, he saved for a rainy day, he shared with others, he showed us how to laugh, he showed us how to love unconditionally, and he showed us how to live life according to God's Plan.
Surely, Jesus has said to Grady Giddiens, "Well Done My Good and Faithful Servant."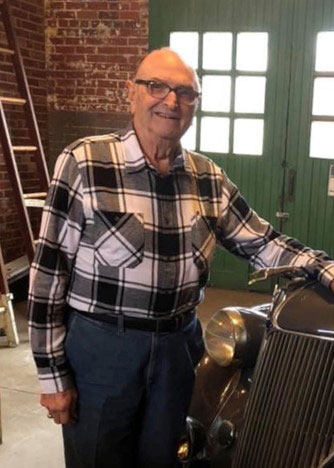 Because of Covid 19 concerns, the family will arrange for Grady to be in the First Baptist Church; Bailey, Texas, during the hours of 1:00 p.m. and 5:00 p.m., Sunday, December 13, 2020. We welcome individual visitation and registration during those times. We do not encourage groups larger than 4-6 people at a time.
Because of building occupancy limitations, A private family-only service will be conducted in the church on Monday. Masonic burial will be at 1:30 p.m. on Monday, December 14, 2020 at Arledge Ridge Cemetery, under arrangements of Wise Funeral Home.
All of our friends and family are welcome at the outdoor cemetery service.
You may sign the online guest register at www.wisefuneralhome.com