Columnists
How fast does your pumpkin go?
Nov 23, 2020
The first Thanksgiving in 1621 was called the Thanksgiving Feast; the Pilgrims and the Wampaoags celebrated the days of Thanksgiving as part of their religion. Our national holiday of Thanksgiving that we know today stems from that feast held in the autumn of 1621 which celebrated the colony's first successful harvest.
The Wampanoags are just one of several nations of people all over North America who were here long before any Europeans arrived. Today between 4,000 and 5,000 Wampanaogs live in the New England area of the United States. They prefer to be called Native people rather than Indians.
After the Continental Congress adopted the Declaration of Independence on July 4, 1776, the next task was to design a seal to represent the country. John Adams, Benjamin Franklin, and Thomas Jefferson decided on the majestic bald eagle as our national symbol. I've heard for many years that Franklin wanted the turkey as our national symbol; that is untrue.
Many of us have wondered why some people have been called turkeys. Luckily it's often said in jest. The only explanation I could find is that turkeys are known for their stupidity.
On October 3, 1863 President Abraham Lincoln announced that the nation will designate an official Thanksgiving holiday on November 26, 1863. For many years after there was some opposition as to when Thanksgiving would actually be. On December 26, 1941, Congress passed a law designating every fourth Thursday in November as the official Thanksgiving holiday.
Thanksgivings are and should always be about giving thanks for all that we have. Our country is more fortunate than many people in other areas around the world and we certainly don't want to forget that. It has been reported that Americans eat more food on Thanksgiving Day than any other day of the year. If that's true, then Thanksgiving could also be referred to as the "Day of Gluttony."
Unfortunately some people tend to overlook the true meaning of Thanksgiving and also think of it as a really good day to watch some football games. There is certainly nothing wrong with football on Thanksgiving, but everyone should first remember that true meaning of Thanksgiving.
The annual Sherman vs. Denison football game was a very popular Thanksgiving afternoon tradition for many years. Played since 1901, it is said to be the longest continuous football rivalry among all high schools in the State of Texas. The oldest high school football rivalry in the nation is in Connecticut; played since 1875, it is the New London vs. Norwich Free Academy game. A famous Texas college football rivalry was Texas vs. Texas A&M, also a Thanksgiving Day tradition for many years until it was discontinued in 2011. Of the 118 games played, Texas led the series 76-37-5; they also won that last game by a score of 27-25 at Kyle Field in College Station.
Other annual Thanksgiving events are the Thanksgiving Turkey Trots held around the United States, many of the long distance running events benefit various charities. Unfortunately like many other events around the world, most of the 2020 Turkey Trots have also been cancelled this year due to the novel coronavirus.
There is still another traditional Thanksgiving sport that I had never heard of until recently -- it's pumpkin boat racing. As I got into researching this very weird sport I found out that it's a popular Thanksgiving tradition in Canada and in some northern parts of the United States, although in October instead of in November. Until recently I didn't realize that Canada observed Thanksgiving in October and the United States observes Thanksgiving in November. Still, I think this very unusual sport is worth writing about. We associate pumpkins with not only Halloween, but in our country pumpkin pies are a tradition at Thanksgiving and again at Christmas.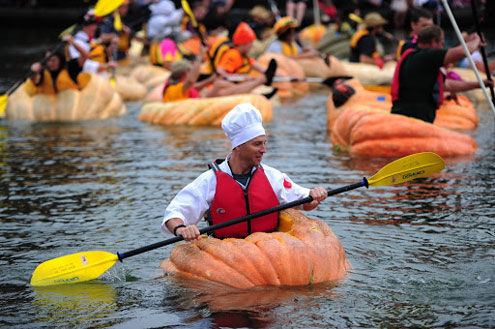 There seems to be no standard set of rules for pumpkin boat racing, evidently the rules differ depending on where the races are held. Most races have at least two divisions, one for pumpkins with motors and one for pumpkins without motors. Pumpkins in most races that have cracks, splits, or leaks are usually disqualified.
The Windsor Pumpkin Regatta and Parade is the longest running annual pumpkin boat race, it was founded in 1999 by Danny Dill and is in Windsor Nova Scotia, Canada. Danny is the son of the late Howard Dill, breeder of the Atlantic Giant Pumpkin. Danny now runs the Howard Dill Company, their website is http://www.howarddillco.com. The Windsor Pumpkin Regatta was dominated for many years by Leo Swinamer, he won six of the first ten annual events.
Pumpkin racing has gotten to be quite a popular sport, mainly in the northern United States and Canada and parts of Europe. Unfortunately this year, because of the Coronavirus, nearly all those annual races around the world have been cancelled. It seems odd that most of the races are held in northern areas where the weather tends to be colder.
The world's largest annual Pumpkin festival and race is in Ludwigsburg, Germany.
In 2017 The Independent, a newspaper in England, voted pumpkin boat racing the world's weirdest sport. Other very unusual sports are cheese rolling, extreme ironing, mud-pit belly flopping, outhouse racing, and wife carrying.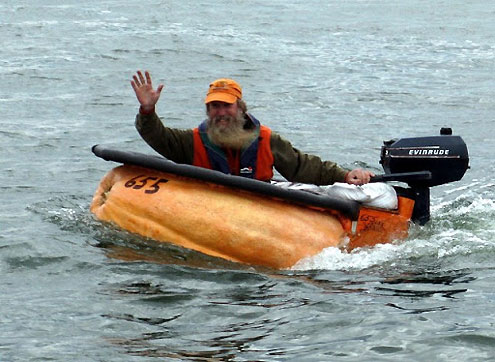 Since there is no information on current pumpkin races I hope you will enjoy some pumpkin trivia, in no particular order:
Mike Valladao has been called "The Picasso of Pumpkin Carvers," many of his creations are pictured on the internet and they are amazing.
A pumpkin is less dense than the water, the water is able to push the pumpkin up quite a bit so that it floats. Pumpkins are large but because of being hollow inside they aren't very dense, this gives them the ability to float.
Most pumpkins in the boat races are minimum of 400 pounds with several being around 1,000 pounds or more. I could not found anything about the weight of the person piloting the pumpkin, it just makes sense that a smaller person would do better in the race.
The giant, often odd shaped, pumpkins are also extremely difficult to control and steer as they tend to spin around a lot.
In 1997 Wayne Hackney of Westchester, New Hampshire became known as one of the first people to paddle around in the water in a giant pumpkin.
In 2018 Rick Swenson created a pumpkin and then paddled it 25 miles in the Red River that connects Grand Forks, North Dakota with Breckenridge, Minnesota. Many people around here do not realize there are two Red Rivers in the United States, the one in our area and then another one up north.
The late Howard Dill was an early grower of the giant pumpkin, he became known as "The Pumpkin King." I found a statement saying that Howard Dill was a fraud, however I could not find any evidence to back up that statement. It could've been just a jealous rival grower who originally made that statement trying to get Howard in a pickle.
The world's largest pumpkin was 2,624.6 pounds, that record was set in 2016 by a man from Belgium. America's largest pumpkin weighs 2,350 pounds and was grown this year by Travis Gienger from Anoka, Minnesota. It takes around 130 days for a pumpkin to grow.
Growing a giant pumpkin seems to be much more scientific than growing almost anything else, it's often a matter of genetics and very specialized care including covering the prized pumpkins up at night. The weight of some of the giant pumpkins has more than quadrupled in the last twenty years. One very knowledgeable pumpkin-growing specialist said it may even be possible in the future to grow a pumpkin to be 20,000 pounds. Pumpkins can gain up to 50 pounds a day while growing and that rate could even increase in the future.
Another secret is knowing exactly how to crossbreed a male pumpkin and a female pumpkin; until recently I never knew there was a difference.
Have a Happy Thanksgiving!
If you have any comments or questions my e-mail address is deh63shs@yahoo.com.