Lifestyles
Mums - Not just a pretty fall flower
Oct 24, 2020
Chrysanthemums, most times known as mums, are seen everywhere this time of year, a perennial favorite to usher in the cooler fall temperatures and shorter days. Did you know mums date back as far as the 15th century in China, and by the year 2014, the estimate is now over 20,000 cultivars around the world. They were first imported to the United States from England in 1798.
The flowers can be boiled to make tea and used as a flavoring in rice wine; the leaves can be steamed or boiled as "greens." The flowers can also be pulverized to extract a natural insecticide called pyrethrins. Be forewarned that the leaves and flowers can be toxic to dogs and cats, and because of the aroma they emit when disturbed, deer commonly avoid the plant if there's a better choice nearby.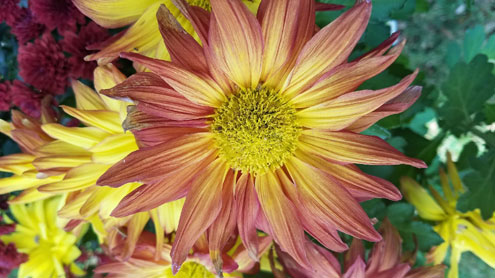 The varieties we refer to as garden mums are categorized by flower shape: anemone, reflex, pompom, regular incurve, irregular incurve, intermediate incurve, single (or daisy), spider, spoon, quill, brush (or thistle), exotic and decorative. The National Chrysanthemum Society USA showcases pictures of mums and shares information on their web page, mums.org, and also Mums USA on Pinterest. There are interesting varieties that are not seen very often in area garden centers but can be grown from seeds that can be special ordered from a nursery or mail-order company, such as Clara Curtis, Mary Stoker, Apricot Moneymaker, Ruby Mound, Patriot and Tripoli.
Each variety is developed to bloom at a certain time in the season beginning in mid summer all the way into early fall, and for the bloom to last a certain time before fading. With proper growing conditions, the blooms should last three or four weeks. Chrysanthemums are photoperiodic, meaning the plant contains a hormone that measures the length of dark (as the days get shorter) to produce the flower bud. While we expect to see mums in full bloom in the fall, they can also set buds and bloom in the spring so we can enjoy two bloom seasons a year.
Chrysanthemums are a plant with a national spread, being rated in USDA Climate Zones 3 – 9. That's north to the Canadian border and to the southern border of Texas. Our area is Zone 7b, making mums an excellent choice of plant to enjoy in our flower beds.
Grayson County Master Gardeners Association is a non-profit 501(c)(3) organization sponsored by the Texas A&M AgriLife Extension Service. Reach us by email at mastergardeners@co.grayson.tx.us, by phone 903-813-4204, our web page txmg.org/grayson, or our Facebook group.