Lifestyles
Bad Moon Rising brings Creedence to Bonham Oct. 17
Oct 17, 2020
Saturday, October 17 at 8:00 p.m.
Bonham, Texas -- Powder Creek Pavilion will bring Bad Moon Rising to Bonham on Saturday, October 17 for a night of the music of Creedence Clearwater Revival and John Fogerty.
Bad Moon Rising began in 2008, after lead guitar player, Steve Combs, attended a live concert featuring legendary John Fogerty. Steve decided to share his love of Creedence Clearwater Revival's music, creativity, and idealism. He then formed a band with individuals who also shared the passion to keep the music alive.
After a few years of performing festivals, fairs, bike rallies and corporate shows as an opening act, Bad Moon Rising was able to take on the responsibility of being the main attraction. Bad Moon Rising decided to incorporate different instruments to expand their horizons and make the music sound as close to the record as possible. Bad Moon Rising takes pride in what they do and want people to be able to close their eyes and feel like they're living the music again.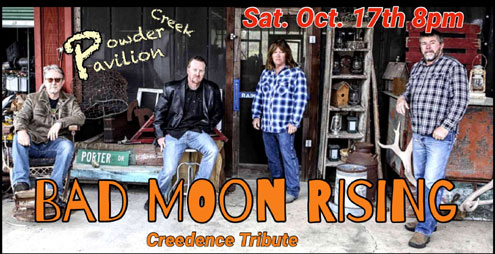 Steve Combs - Lead Guitar, Lead Vocals, Harmonica, Keys
Chris Combs - Rhythm Guitar, Dobro, Keyboard, Vocals
Jason Akers - Bass Guitar
Thomas Chaney - Drums Bad moon rising
Venue:
Powder Creek Pavilion (903)227-1911
520 S. Center St. Bonham, TX 75418
3 blocks S. of the square on Hwy 78.