Lifestyles
Classic Country dance music at Powder Creek Pavilion Oct. 10
Oct 10, 2020
Saturday, Aug. 10, 8:00 p.m. Classic Country Dance Music
The "C7 Band" is the hottest Country and Classic Rock band in the area. They have played all over Oklahoma and Texas from the Oklahoma State Fair to The Civic Center in Beaumont Texas. They are a six-piece band that plays everything from Garth Brooks to Lynyrd Skynyrd. They are a very high energy band with great sound.
Of the 6 members, there is Clendon Gilbert on the lead guitar out of Tishomingo, Oklahoma; Steve McAdoo on bass out of Cryerville, Oklahoma; Cindy Parson on keyboard and vocals out of Durant, Oklahoma; Oflynn Sewell on fiddle, mandolin, guitar and vocals out of Enos, Oklahoma; Doc Nelson on drums out of Kingston, Oklahoma; and Hal Showalter on guitar and vocals out of Kingston, Oklahoma.
The band does a mix of Country and Classic rock from the '70s to present. Put your dancing shoes on and come out. Weather should be great for the show.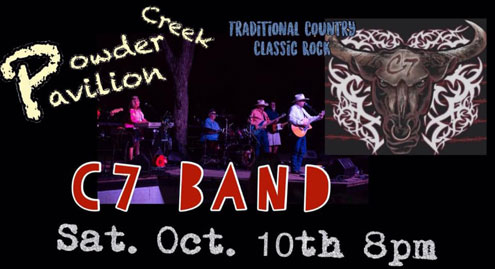 Powder Creek Pavilion
520 S. Center St.
Bonham, TX. 75418
(903) 227-1911