Front Page
First-generation student from small-town Texas finds perfect fit at Southeastern
Sep 17, 2020
Durant, Okla. – Larissa Flores is like many other students at Southeastern Oklahoma State University – a first-generation college student from a small town with a bright future.
The junior Elementary Education major by way of Bells, Texas (pop. 1,500) instantly found a home away from home by becoming involved in the Student Government Association, Savage Storm Leaders, Baptist Collegiate Ministries, and Project Teach. She also works on campus in the registrar's office.
Located in Grayson County, Bells is 12 miles southeast of Denison-Sherman. And it's just 34 miles down the road south of Durant.
Southeastern was actually the last campus visit Flores made, having toured a half dozen schools in north Texas before making her decision to cross the Red River.
"When I first visited here during my senior year of high school, it just felt like home,'' she said. "Durant is a small, tight-knit community, and at Southeastern, students instantly make a connection. Everybody says you're not just a number, but a person, and that's very true. And I have had a world of opportunities since coming here.''
Flores has plenty of company from her small hometown – no less than 24 undergraduate students from Bells are currently enrolled at Southeastern. This is quite impressive when you consider the enrollment at Bells High School is 288 students in four grades.
For many years, the Southeastern Marching Band has attracted outstanding students from Bells, and this has spread to the athletic fields, as former Bells Panthers now represent SE in football, softball, women's basketball, and women's track and field.
And while Flores still spends time with her fellow BHS graduates on campus, she also enjoys interacting with international students from Australia and Brazil; she counts among her best friends students from such Oklahoma locales as Durant, Ardmore, Atoka, McAlester, Shawnee, and Elk City.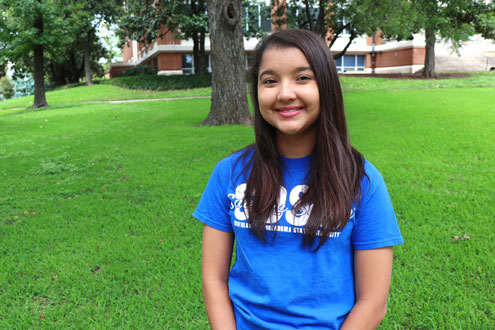 Larissa Flores is a junior Elementary Education major from Bells, Texas.
For Flores, it's been a smooth transition from Texas student to Oklahoma student.
"Sometimes the Red River Rivalry (Texas vs. Oklahoma football) will be mentioned,'' she laughed of her Texas status among her friends, "but we do a lot of fun things together.''
Other factors that attracted Flores to Southeastern and teaching was the reputation the University has for producing teachers, as well as the influence of various friends, teachers, counselors, and coaches in her hometown.
"When I was in school at Bells, I was a member of the PALS (Peer Assistance Leadership and Service) program,'' she said. "This is a buddy program in which older students serve as role models and mentors to younger students. After that experience with PALS, I just fell in love with the classroom and knew I wanted to be a teacher.''
Although the majority of Southeastern students are from Oklahoma, Flores is joined by a large contingent of Texans. In fact, currently, 19% (1,014) of all SE students come from the neighboring Lone Star State.
Southeastern traditionally draws a significant number of Texas students in such programs of study as aviation, business, safety, education, and the performing arts.
According to Flores and others, the university's 100% out-of-state non-resident tuition waiver policy is attractive to Texas students. The waiver makes Southeastern one of the most affordable public universities in the southern Oklahoma and North Texas region. That, coupled with the location of Durant, a drive of a little more than an hour to the Dallas-Fort Worth Metroplex, seems to appeal to students from throughout north Texas.
Students from 268 high schools representing 194 cities – from Amarillo to San Antonio -- attend Southeastern.