Lifestyles
September is Hunger Awareness Month
Sep 22, 2020
Fannin County, Texas -- Feeding America established Hunger Awareness Month in 2008 to raise awareness of hunger issues plaguing millions of Americans in communities across the nation. During September, communities are asked to volunteer, donate to local food banks and organizations, and thank those who work to alleviate the suffering caused by hunger. According to Feeding America, food insecurity will affect over 54 million people including 18 million children in 2020. Families in both urban and rural areas make up part of the increase in numbers due to the effects of COVID-19.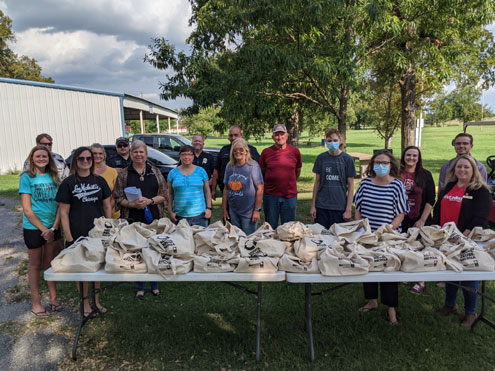 Photo of volunteers at Feeding Fannin Dinner and Resource Fair in Leonard, which was co-sponsored by Leonard Chamber of Commerce and Feeding Fannin.
Lack of good healthy food affects people of all ages including the elderly who may not have the ability or money to go to the store. This has been increased by COVID-19 and quarantine of those with pre-existing conditions. Rachel Aguirre from Meals on Wheels—an organization whose volunteers take warm meals to the homes of eager recipients in need—estimates they serve 150 people a day in the Bonham area. (Volunteers are following safety precautions at this time, for instance dropping food off outside.)
Hunger and lack of nutritious food for school age children has shown to hinder learning. School programs help many students with one or two meals a day. Programs like Kool Lunches and Backpack programs are assisted by area churches and individuals who donate their time and money. These terrific groups play an important role in good nutrition and healthy kids.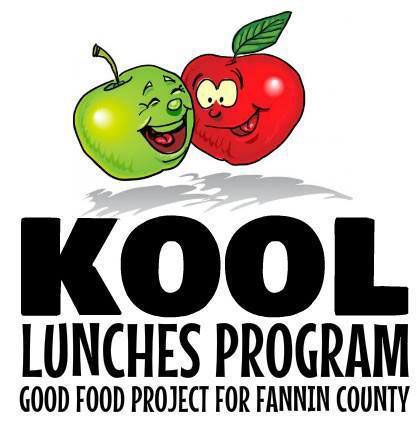 They provide summer and weekend meals and snacks that might be missed without their generosity. According to Phyllis Kinnaird, Nutritionist with BISD, Bonham had 73% of students that qualified for free or reduced lunches. Other parts of Fannin County were even higher. Jodi Hunt, director of Kool Lunches in Bonham, gave these numbers for the summer: "We had four weeks with an average of 300 lunches per day. Then other weeks averaged 150 a day. The total was 7,427 Kool Lunches made, in 2020, despite COVID-19!" (Days with higher numbers were due to summer school.)
During the school year approximately 200 students at Bailey Inglish, Finley Oates, and I.W. Evans receive weekend food bags provided by the North Texas food Bank. An additional 65 students at L.H. Rather Junior High and Bonham High School receive bags provided by our local program, which is funded by donations from BISD employees and local businesses.

Feeding Fannin originally organized to provide the local community with healthy fruits and vegetables. Since the need has exceeded expectations, they now assist North Texas Food Bank with Disaster Relief boxes of staples and fresh vegetables, milk, and juice. In May they also began serving dinner once a week in Bonham free of charge at the Family Life Center. Local churches and businesses have generously given support. In July they extended to Ladonia working with the Ladonia Police Department and community leaders. This month, volunteers served in Leonard working with the Leonard Chamber of Commerce. Resource bags donated by Texoma Council of Governments are handed out at the dinners containing information for aid and assistance in the county.

During the late spring and early summer, local farmers donated fresh produce for the drive-thru dinners. By the end of the summer, 325 folks were being served and dinner was also delivered to the Open Arms Homeless Shelter. The Open Arms Shelter is not a pantry but does provide 3 meals a day to the homeless residents.

Star Breece with the Community Food Pantry in Honey Grove says they serve 100 families twice per month. The Fannin County Ministries was established in 1993 and is the largest food pantry in the county. According to their records they have signed up 324 new households since March and the Covid-19 pandemic. They have served 3,303 households in 2020. 3,303 households represent 9,078 people, 3,017 children and 1,653 seniors.

There are many other resources in Fannin County, such as food pantries and local churches that help with food and other necessities. The Fannin County Family Crisis Center prints a brochure, Fannin Cares, that lists many of these organizations with their schedules and numbers. The Crisis Center also has a small food pantry they keep for their clients and local folks needing a little extra help.

Cindy Godbey, member of First Presbyterian Church in Bonham, and volunteer says, "The Blessing Box has been providing non-perishable food items for those in need since April 2017. Who benefits from the FPC Blessing Box? Seniors on fixed incomes, young families, unemployed people, homeless people- the truth is WE DON'T KNOW. It's anonymous and that's our favorite part. What we do know is that the Blessing Box meets a need in our community."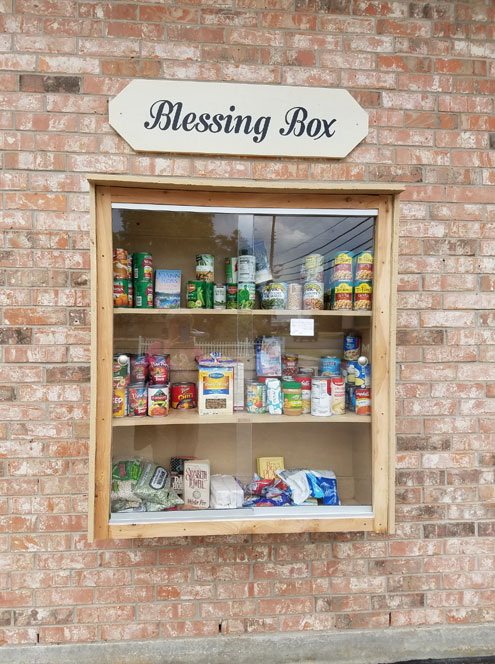 Blessing Box
All the food pantries and agencies have continued to serve during the pandemic many like Manna House are keeping social distancing by loading the cars while clients remain inside. They have continued their purpose "to share God's message of love, hope, and salvation to all who hunger."
Feeding Fannin believes it is tremendously important for Fannin County to be aware of hunger problems and how they are affecting our neighbors. Those who wish to be a part of the solution can volunteer with local agencies and other organizations relieving food insecurity. Otherwise they can donate money or other food items.
On September 22, the Fannin County Commissioner's Court will sign a Proclamation declaring September as Hunger Awareness Month in Fannin County. We are all grateful they are showing awareness, concern, and dedication to solving the problem of hunger in our community. Commissioners Court meetings are 9:00 a.m. at Bonham City Hall or you may watch via ZOOM.