Front Page
COVID-19 report for September 10
Sep 11, 2020
Texas Department of State Health Services COVID-19 report
Austin, Texas -- All the statistics continue to improve except for the most important one as Texas approaches 14,000 fatalities related to the novel coronavirus. To add perspective, one month ago, on August 10, Texas had a suffered a total of 8,490 fatalities.
According to the daily data release on Thursday by Texas Department of State Health Services, the state reported 3,852 new cases and 161 newly reported fatalities during the past 24 hours.
Texas Hospitals currently have 3,565 lab-confirmed COVID-19 patients, which reflects a slight reduction since the previous daily report. Hospitalization numbers have steadily decreased after peaking at 10,893 on July 22.

As of Wednesday, September 8, the seven-day positivity rate was 7.77%.
Texas has reported a total of 645,791 confirmed cases, with an estimated 564,114 recoveries and 13,853 fatalities related to COVID-19.
The state has an estimated 71,842 active cases. By comparison, one month ago Texas had an estimated 133,584 active cases.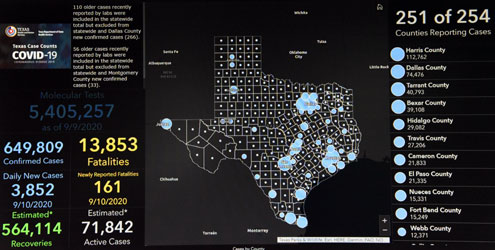 Harris County in South Texas continues to be the hotspot in the state with 723 new cases during the past 24 hours.
In North Texas, Tarrant County was notified of 350 new cases and Dallas County had 266 newly reported cases.
Just north of the metroplex, Denton County reported 81 new cases Collin County was advised of 58 new cases.
Fannin County had two new cases and Cooke County had one new case.