Entertainment
Today I'll Think About the Rain: The Music of Ruby Allmond
Feb 9, 2021
Fannin County, Texas -- Ruby Nell Allmond was born in 1923 on a farm in southeast Fannin County, near the Bailey community. Her parents were Arthur M. Allmond and Lou Cole Allmond. Arthur Allmond, who came from Missouri, grew cotton and corn on a blackland farm. Lou Cole came from Tennessee, and she had blue eyes and sparkling humor and personality that Ruby inherited. Ruby was the youngest of four children, with a sister, Delia Mae, and two brothers, James Roy and Charlie Raymond. Many of her friends called her "Chub," which was a nickname given her by an older brother when she was a toddler. Ruby passed away on Jan. 23, 2006, at the age of 82.
Ruby was born into a musical family, with members who played the fiddle, guitar, banjo, and mandolin. As a small child, she learned to play the guitar while sitting on the lap of her father, who also held the instrument for her. At the age of four she first performed on the guitar at a nearby school, and the enthusiastic response to this event spurred her on. Soon she was learning to play her brother Raymond's fiddle. In an effort to keep his fiddle out of her reach, Raymond placed it high upon the wall, but she always managed to get it. One day as he and Roy were coming home from work in the field, they heard the fiddle being played by Ruby.
Roy said, "Listen to that, Raymond, she can already play better than you can." So Ruby was then allowed to practice on the fiddle. As her playing in public drew more praise, Ruby became determined to disprove the common idea that "no woman could play the fiddle well." After high school she practiced as much as eight hours a day in order to master the instrument.
Ruby was highly intelligent and schoolwork was easy for her. In high school she excelled in essay writing, and was eligible to go to state-level competition one year. But these were hard times, and the basketball team was also eligible to go to state. The school district decided there was not enough money to go around, so Ruby stayed home. But her skill in composing songs was certainly foreshadowed by the verbal ability she demonstrated in school.
After completing high school, Ruby continued to live at home with her parents. She farmed in partnership with her dad and also worked on her fiddle playing and her stage personality, taking part in local performances in homes, schools, etc. She developed a style of play that involved making a rhythm with the fiddle bow as she played and also emphasized harmonies and double notes. She also began traveling as far as Abilene, Texas, and Durant, Oklahoma, to perform with other musicians and play in shows. Two top-notch fiddle players who regularly performed with her for a trio fiddle show in the late 1940s were Georgia "Slim" Rutland and Howard "Howdy" Forrester.
There was no telephone on the Allmond farm, and Rutland and Forrester had an interesting way to inform Ruby about where to meet them for the next show. They appeared regularly on the "Cornbread Matinee" show daily at noon on KRLD radio
in Dallas, hosted by Hal Horton. During the course of the show they would announce where they would be performing that weekend. Ruby made sure she listened to the show, and her brothers Raymond and Roy, who played with her, would then pick her up and drive to the show. Harold Carder also played stand-up bass with them. Greenville Municipal Auditorium was their favorite venue, and there Ruby was billed as the National Champion Woman Fiddler.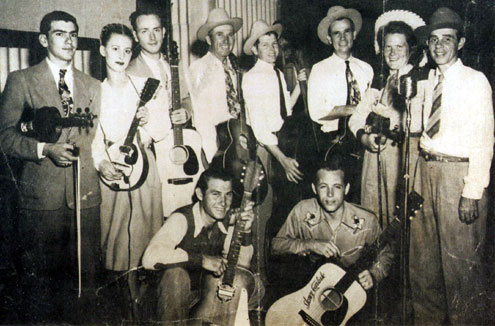 Ruby then put together her own band, called "The Texas Jamboree," which was advertised as a "Top-notch Fiddle Band." In addition to her, it included Guy Bryant and his son and daughter, Gene and Joyce, on mandolin and acoustic guitars, plus Clay Harvey on stand-up bass. Congressman Sam Rayburn, Speaker of the U. S. House of Representatives, carried them with him on the campaign trail as he ran for re-election in 1950. An article that appeared in the Ladonia News in the fall of 1950 read as follows:
RAYBURN RALLY: CANDIDATE SPEAKING HERE
GOOD PROGRAM PREPARED; MUSIC BY RUBY NELL ALLMOND AND BAND OF BAILEY
The program of the evening is scheduled to get underway at 7:45, with thirty minutes of music by Ruby Nell Allmond, famous woman fiddler and her string band, will precede Mr. Rayburn's address. After the talk there will be more music by the band and all candidates for Fannin County offices will be invited to speak.
Ruby thought very highly of Mr. Rayburn and was happy to support his campaign by having her band entertain at rallies where he spoke. She also gained valuable experience and exposure from those shows.
In the early 1950s, interest in the local music shows died out as the public turned to other forms of entertainment, and that is when Ruby began writing songs. Audra Brock recalls that when she returned to the Bailey community in 1953, after having been away for a while, it was evident to her that Ruby had gained skill in performing and also in composing. In order to preserve her songs as Ruby composed and performed them, Audra bought a good quality tape recorder, and Ruby allowed her to tape the songs as she sang and played them as part of her composition process. Making these tapes of her songs greatly encouraged her. For about the next thirty years, until 1982, she concentrated on writing songs and produced many good ones.
Ruby's composition technique was unusual. From 1956-88, she worked full-time at Bonham State Bank (as did Audra), and during the day she would think about ideas for a new song and begin composing words and music in her mind. After working a full day at the bank, she would come home to her father and eat supper and visit with him. Then she would come to Audra's house, where they had a small studio. She would pick up her guitar and begin to play and sing the new song. She already had the words, the tune, and the melody all worked out in her head, and she always insisted on playing and singing it through without stopping. She used a classical guitar so her voice could be heard clearly over the music. If the guitar needed to be tuned or have a string tightened, she did not want to stop until she had played and sung the new composition through and gotten it out of her head. Although she might have the words jotted down, she never wrote the notes out on the music staff. It was all worked out as a whole in her head. When she finished working on a song, it was layered with meaning, like a poem or other quality literature.
In 1968 Ruby and Audra decided they wanted to take some of her songs to Nashville to see if some well known performers would like to record them. Before making the trip, they visited Cindy Walker, a famous songwriter who lived in Mexia, Texas. Without even hearing Ruby's songs, Cindy was so impressed with her talent that she told them to go to Nashville and talk to Bob Jennings at RCA Music. She said she would call Bob and tell him about Ruby, and she felt sure he would introduce her to Chet Atkins.
Taking a week of vacation from their jobs at Bonham State Bank, Ruby and Audra traveled to Nashville and met Bob Jennings. He later said that when he first listened to the tape of Ruby performing some of her songs, they were so good that "the hair stood up on the back of his neck." He took them to a studio for a demonstration recording session, using as a drummer D. J. Fontana, who had performed with Elvis Presley.
By the time they left Nashville, Jennings had agreed to contract six of Ruby's songs. She did not have to pay anything for the use of the studio, etc., and the contract she signed with Four Star Music gave them the right to publish her songs and place them with an artist, with her receiving royalties for all sales of recordings, play times on radio shows, etc. Chet Atkins took two of her songs, and Dottie West made her song "Reno" a top-ten hit.
Other artists who recorded some of her songs were Stu Phillips, Ferlin Husky, Jimmy Ellis and George Morgan. Beginning in 1968, Ruby received annual royalty payments for her songs. Whenever Audra hears some young composer say that he/she sold a song for $50, she thinks, "What a waste! If it was good enough to sell, you could have collected royalties on it for many years."
Ruby and Audra began using their vacation time from the bank to take trips to Nashville twice a year, because it was evident that making those visits enabled them to keep their contacts fresh and meet more artists. Whenever they went to Nashville, they were allowed to sit in on recording sessions. Audra recalls observing sessions with Jimmy Dean, Dottie West, and other stars of country music.
From time to time, Ruby would receive calls from Bob Jennings or others in Nashville requesting songs of a certain type, especially love songs or songs for male artists.
These semiannual trips to Nashville continued for a number of years, until the illness of her father in 1974 interfered with her writing and also her desire to make the trips. But from about 1982-88, she made guest appearances at country music shows in the local area. One of her reasons for doing this was to encourage young musicians and teach them how to perform on stage, as she had learned to do. Her personality and good humor made her a favorite, especially among young men.
In 1979 Ruby suffered a fall that broke her hip and wrist, and she had to undergo three surgeries to repair her hip. After this she had to walk with a cane. She always left the cane backstage, using a male escort to bring her to the microphone. She would wave her fiddle to the audience and immediately win them over with her combination of a beautiful singing voice and skilled play.
During this period she performed on numerous occasions with Joe Shelton's band at a school auditorium outside Sulphur Springs, Texas. She took part in two shows with June Carter, and sang with her in a spontaneous skit that was humorous. Audra remembers that the audience was filled with laughter by their duet.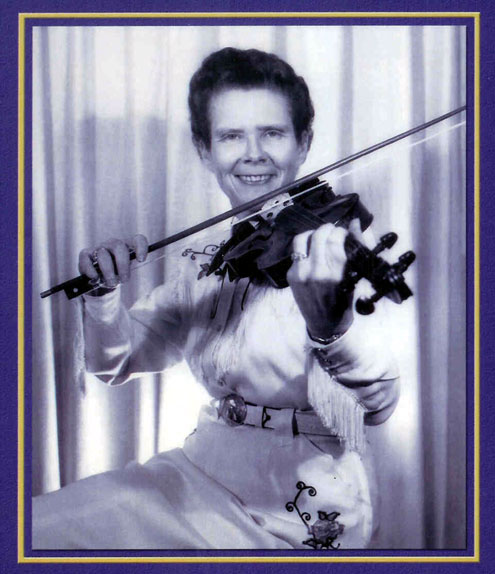 Before Ruby passed away, she and Audra worked on producing a book and a set of compact discs that would preserve and showcase her music. Ruby chose the title for the book: "Today I'll Think About the Rain," which comes from one of her songs.
The subtitle is "An Anthology," and it prints the lyrics to 41 of her songs. Part One, entitled "Sounds of Texas," includes nine lyrics. The second part, "A Little About Life," has 14 songs. "A Lot About Love" presents 18 lyrics. Each of the three parts to the book has an accompanying compact disc with Ruby performing the songs in that section. Prefatory notes in the book indicate that copyrights to 14 of the songs are owned by Sony/ATV Music Publishing in Nashville, while the remaining 27 are copyrighted by Ruby Allmond.
In a prefatory note about the recordings, Audra writes: "These are not meant to be slick, commercial-type recordings; they are historical, natural, real–to be enjoyed, appreciated now and carried into a future time to show the music of the period. They were made in Ruby's home when she was composing the songs. She used a classic guitar and usually there was a different type of accompaniment on each song."
The thing that sets Ruby apart from others is her artistry, whether in performing or composing. Another writer in Nashville had a #1 hit record entitled "To Get to You." When Ruby complimented this fellow writer on her hit, the writer said, in all sincerity, "Oh, Honey, I can't carry your shoes." Chet Atkins, who was very careful about his comments on artists, told Ruby that she was "a great songwriter."