Front Page
Constitutional Week: part 10
Sep 21, 2020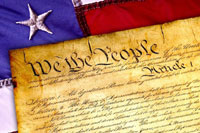 Constitution Week, September 17 – 23, commemorates the signing of the Constitution of the United States.

Did you know that the Constitution does not give the right to have cases heard by a jury of "my" peers? The Constitution does not have the words "separation of church and state" anywhere in it. The only crime that is defined in the Constitution is treason. Specifically, it is adhering to or giving comfort to the enemies of the United States.

The Constitution neither prohibits nor encourages that the President and the Vice President be from the same party.

Study the Amendments and the Bill of Rights. Know your
Constitution!

This announcement was provided by the Martha Jefferson Randolph Chapter, National Society Daughters of the American Revolution.

The Martha Jefferson Randolph Chapter meets in Grayson County. September 17-23 is known as Constitution Week celebrating the birthday of the Constitution on September 17, 1787. We are celebrating this year by providing books on the Constitution and the Mayflower (400th anniversary year) to three area school libraries. Flags, bells, and flags are being given to Fred Douglas School and Tioga Elementary for their students.