Front Page
Constitution Week: part 6
Sep 17, 2020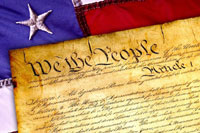 American colonists fought, sacrificed, and died to establish and preserve the freedoms now guaranteed to us by the Constitution of the United States.

The right to privacy has come to the public's attention through various controversial Supreme Court rulings. Privacy is not specifically mentioned in the Constitution, but over the years the Supreme Court has made decisions that have established that the right to privacy is a basic human right and as such is protected by virtue of the 9th Amendment.

Study the Constitution, know your rights, and know what it says and does not say.

This announcement was provided by the Martha Jefferson Randolph Chapter, National Society Daughters of the American Revolution.

The Martha Jefferson Randolph Chapter meets in Grayson County. September 17-23 is known as Constitution Week celebrating the birthday of the Constitution on September 17, 1787. We are celebrating this year by providing books on the Constitution and the Mayflower (400th anniversary year) to three area school libraries. Flags, bells, and flags are being given to Fred Douglas School and Tioga Elementary for their students.