Front Page
COVID-19 report - August 13
Aug 14, 2020
Texas Department of State Health Services COVID-19 report
Austin, Texas -- Texas moves towards the 10,000 milestone in fatalities with 255 newly reported fatalities, but hospitalizations, active cases and the positivity rate all have downward trends in the daily data release on Thursday by Texas Department of State and Health Services (DSHS).
To date, the state has reported 513,575 confirmed cases of COVID-19, with an estimated 375,760 recoveries and 9,289 fatalities related to the novel coronavirus.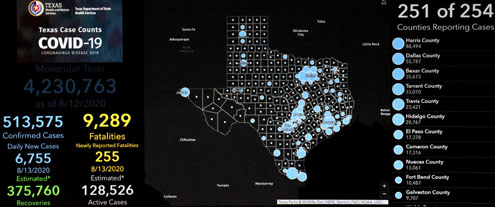 Texas had 6,755 new cases of COVID-19 during the past 24 hours, up from the 6,200 new cases reported yesterday.
The seven-day average of daily new molecular tests increased to 40,900 in Thursday's data release, up from 28,300 on Wednesday.
Statewide, there are an estimated 128,526 active cases, a precipitous drop of slightly more than 5,000 active cases during the past 24 hours.
As of August 11, the seven-day positivity rate soared to an all-time high of 24.50% before an inexplicable fall to 16.08% a day later.

Of all the statistics supplied by DSHS, the hospitalization numbers have reflected the steadiest decline since peaking at 10,893 on July 22. Texas hospitals currently have 6,879 lab-confirmed COVID-19 patients, down from 7,028 COVID-19 patients in yesterday's daily report.
In South Texas, Harris County had 989 newly confirmed cases in the daily data release.
In North Texas, Tarrant County reported 404 new cases and Dallas County continued to see falling numbers with only 234 new cases.
Collin County was notified of 261 new cases, Denton County reported 92 new cases and Fannin County was advised of 41 new cases.
Hunt County had 39 new cases, Lamar County reported nine new cases, Grayson County had eight new cases and Cooke County was advised of four cases.