Lifestyles
Justice Is Served, virtually
Aug 18, 2020
Fannin County, Texas -- After much careful deliberation, the board of directors of the Fannin County Children's Center has decided that the 16th annual "Justice Is Served" will be a virtual, three-day event.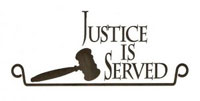 In recent years, this dinner and auction fundraising event has drawn a crowd of more than 500 people to the Complex in Bonham. "Because of the pandemic, we just do not see how it would be safe or wise to do that again this November," said Children's Center Executive Director Sandy Barber. "However, we still need funding. Our work has not stopped. Therefore, we are putting our time and energy into developing a fun, online fundraising event."

The three-day event will be November 12-14 and will include several components. A baked goods auction will be conducted on-line on Thursday, Nov 12. The traditional silent auction will be moved on-line. Anyone with access to the internet will be able to view and bid on these auction items from Nov 12-14. On Saturday, Nov 14, there will be a live stream starting at 7 pm which will include a live auction, raffle drawing and more.

Details for sponsorship packages are still being adjusted and fine-tuned for this year's event. Organizers are aiming to release sponsorship details by the first of September.

The Children's Center is currently seeking donations of auction items for the event. Additional event details will be released as they become available. Follow the Fannin County Children's Center on Facebook, Twitter and/or Instagram or check out their website www.fanninccc.org as additional event information will be posted as it becomes available.

The Fannin County Children's Center is a non-profit agency that has been serving children since 1993. Their mission is promoting safety and improving the lives of abused and neglected children. The Center's programs include CASA, the Children's Advocacy Center and child abuse prevention. The Children's Center relies on grants, donations and fundraising in order to provide advocacy, counseling and other support services at no cost to victims of child abuse.