Local News
Bois d'Arc Lake Shoreline Management Plan, Watershed Protection Plan discussed
Aug 9, 2020
Fannin County, Texas -- Representatives of North Texas Water District (NTMWD) and Fannin County officials met Thursday, August 6, 2020 at Bonham City Hall for a work session to discuss the Bois d'Arc Lake Shoreline Management Plan that is currently being developed, as well as a Watershed Protection Plan that will be implemented later to protect water quality for the reservoir.
"The North Texas Municipal Water District (NTMWD) was excited to share the draft Shoreline Management Plan (SMP) with the Fannin County Commissioners Court today," said Mike Rickman, NTMWD Deputy Director of Operations and Maintenance. "We're committed to making Bois d'Arc Lake a success. The SMP will help balance the water supply needs of our communities while allowing safe recreational use and sustainability."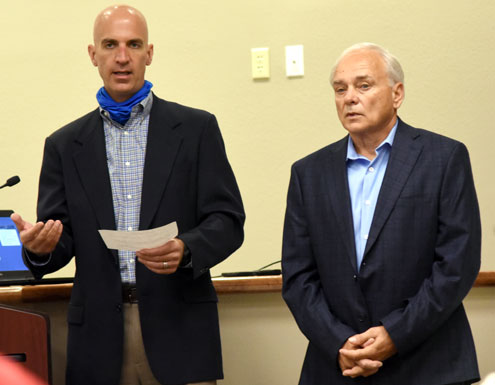 (L-R) Billy George and Mike Rickman of North Texas Municipal Water District lead a discussion regarding the proposed Bois d'Arc Lake Shoreline Management Plan. photo by Allen Rich
"The draft plan builds upon the Fannin County Master Plan and zoning regulations," Rickman added. "We know that people are ready for recreation and development opportunities, and we are too. We also believe that it's important to take the time necessary to get this process right for NTMWD and people in Fannin County."
According to Rickman, staff presented the draft plan to the NTMWD Board of Directors at a meeting in late July. The NTMWD Board is reviewing the plan and will consider approval at a future meeting. Once the Board approves the SMP, staff will develop the processes and systems needed to implement the plan before permit applications are accepted.
The Bois d'Arc Lake Shoreline Management Plan (SMP) was described as a "living document" than can be modified as needs arise. Staff is not sure when the board will approve the plan but hopes to bring it back to the board for additional discussion at the September meeting.
In its current form, the plan calls for a carrying capacity of 300 boats in Bois d'Arc Lake; at the present time, 150 car/trailer spaces are planned at public boat ramps, which leaves 150 opportunities split for future marinas, private docks and other uses. The plan is based on a proposed density of 35 acres per boat.
The 300 boat carrying capacity is an average meant for planning decisions related to shoreline development. It is anticipated that there will be private boat docks and marina slips well in excess of the 150 remaining opportunities. For example, it's important to note that boat docks and marinas have different use ratios than boat ramps. When a parking space at a boat ramp is occupied, it can reasonably be assumed there is a boat on the water. The SMP assumes a much lower use ratio for marinas and private docks. The ratio for marinas is 4:1, meaning that for every 4 marina slips there is likely to be 1 boat on the water at any given time. The use ratio for private docks is even lower at 10:1. Also, carrying capacity will be revaluated periodically as the lake develops.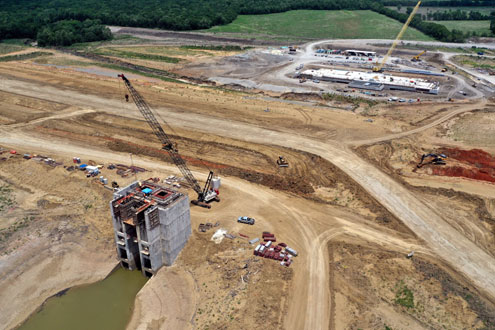 Crews continue to pour concrete to increase the height of the raw water intake structure, shown in the foreground, while the pump room is taking shape at the raw water pump station, located in the background. Crews will transition to mechanical focused work there in the next few months. photo courtesy of North Texas Municipal Water District
Agreement types include Shoreline Lease and Use Agreement, which is limited to adjacent private property owners and authorizes boat docks, fishing piers, vegetative modification, etc.; Special Event/Temporary Use Agreement which covers events with 25+ people or vessels. Examples of special events include fishing tournaments, boat races, 4th of July
fireworks/celebrations; Natural Resources Management Notification for hazard tree removal, planting, restoring native vegetation, and/or dealing with invasive/noxious plants; and Mobility Assistance Vehicle Authorization.
Marinas and other commercial activities will be considered individually through unique commercial agreements.
A Shoreline Lease requires surveyor installed boundary markers 100 feet from the improvement and it includes boat docks, fixed fishing piers or overwater patios, vegetative modification, access paths, and land-based facilities such as BBQ pits, picnic tables, decks, patios, pergolas and gazebos.
Shoreline use is based on NTMWD owning property from the lake's varying water level to a 541 msl boundary line which must be demarcated by concrete monuments installed by licensed surveyors. Private property begins at the 541 msl boundary line, however there is an easement between the 541 msl line to another boundary line at 545 msl.
A footpath is allowed from the house to the dock and a vegetation modification zone of 100 feet will be allowed at the dock. Riprap or another hard surface will be required along this 100-foot zone to mitigate erosion.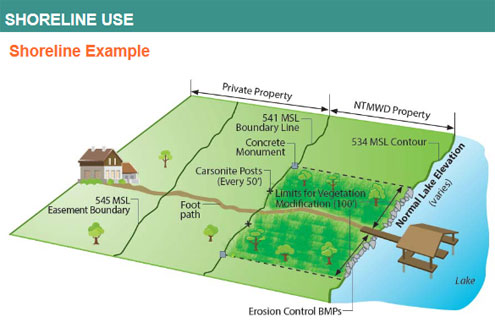 graphic courtesy of NTMWD
Dock spacing east of the FM 897 bridge is set at 100 feet, while dock spacing west of FM 897 is set at 200 feet.
All docks must be constructed by an approved dock builder, although a list of approved builders in not available at the current time.
The mobility assistance vehicle authorization fee is $25 for five years; this would allow a golf cart or four-wheeler to transit the distance between the residence and the dock.
NTMWD encourages the use of community docks for higher density residential developments.
Docks will be single-story with a maximum of 1,000 square feet and must have solar-powered lighting from dusk until dawn.
Two types of docks are allowed, fixed docks and floating pole docks.

No storage of fuels, pesticides, insecticides, or hazardous materials will be allowed at docks. Small enclosed storage chests -- 3 feet by 2.5 feet -- are permitted.
Swim docks are permitted only when incorporated as part of a boat dock.
In coves, a minimum of 1/3 of the cove width must remain free of docks to allow boat traffic to transit.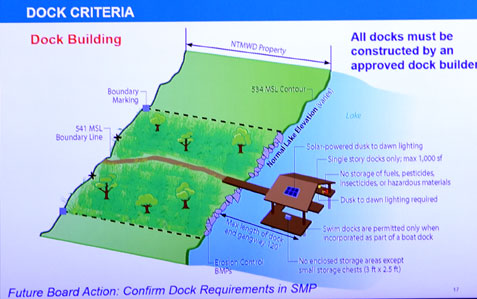 graphic courtesy of NTMWD
The five-year, non-transferable boat dock fee will be $750 the first year, with an annual recurring lease fee of $100 in years 2-5. The total 5-year boat dock fees would be $1,150 for the initial term and $775 for renewal.
The agreement fee for vegetation modification/land-based facilities is $500 and the fee to remove standing timber below 534 msl is $250.
The fee for a special event, such fishing tournaments boat races or fireworks shows, is $150.
Violations Subject to Fines
• Unauthorized Burning
• Unauthorized use of pesticides/herbicides/fertilizers on NTMWD property
• Hazardous materials on docks or NTMWD land
• Unauthorized personal property on NTMWD land or water
• Unauthorized overwater facility
• Unauthorized dock or dock modification
• Unauthorized access path construction
• Unauthorized use of a mobility assistance vehicle
• Failure to delineate the NTMWD boundary line
• Unauthorized vegetation modification
• Failure to have a copy of the Agreement with the MAV during use on NTMWD-owned property
• Deviation from Approved Dock Construction Plans
• Emerging erosion issues
• Failure to restore the leased area
• Failure to apply for a Shoreline Use Agreement
• Failure to display Agreement Tags
• Failure to pay Agreement fees
• Failure to renew an Agreement
• Failure to complete construction in allowed time limit
A brief discussion regarding the development of a Watershed Protection Plan for Bois d'Arc Lake concluded the meeting. The Texas State Soil & Water Conservation Board describes a Watershed Protection Plan (WPP) as "a coordinated framework for implementing prioritized and integrated water quality protection and restoration strategies driven by environmental objectives. ... Developed and implemented through diverse, well integrated partnerships, a WPP assures the long-term health of the watershed."
Fannin County Judge Randy Moore called the WPP "an important tool to protect water quality."
David Cowan, NTMWD Watershed Manager, said the WPP for Bois d'Arc Lake is in its beginning stages and added that the successful development of any watershed plan depends on involvement of the local community.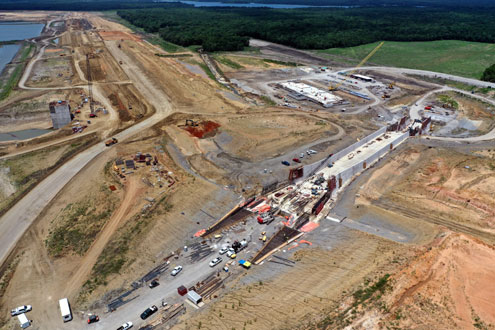 Construction continues at Bois d'Arc Lake with crews placing embankment fill on the dam and working on the raw water intake structure shown to the left of the dam, spillway shown in the foreground and raw water pump station shown to the right of the dam embankment. photo courtesy of North Texas Municipal Water District