Local News
Fannin County Republican Women donate to candidates
Aug 6, 2020
On Monday, August 3 at the regular meeting of the Fannin County Republican Women, our slate of candidates for the November 2020 election, were presented checks for their campaigns.
The following Republican candidates will represent Fannin County well in the upcoming election:
Laurine Blake, 336th District Judge; Richard Glaser, Criminal District Attorney; Mark Johnson, Sheriff; Gail Young, Tax Assessor- Collector; Edwina Lane, Commissioner Precinct 1; Jerry Magness, Commissioner Precinct 3; Paul Holt, Constable Precinct 1; Jimmy Helms, Constable Precinct 2; and Kevin Mayberry, Constable Precinct 3.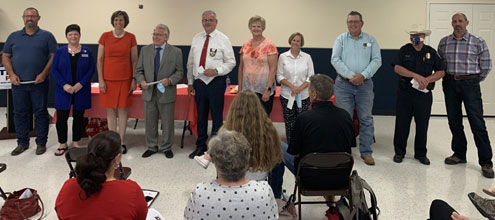 (L-R) Jimmy Helms, Karen Butler, FCRW Treasurer, Lauri Blake, Richard Glaser, Mark Johnson, Gail Young, Edwina Lane, Jerry Magness, Paul Holt and Kevin Mayberry
The Fannin County Republican Women are a multi-generational, multi-cultural organization that provides structure and support for political activists to learn, engage and flourish. We provide an avenue for women to influence policy, develop candidates, support education through scholarships, and elect the leaders of Texas. We would love to have you join us at our regular monthly meetings which are the first Monday of the month unless it falls on a holiday. Currently we are meeting from 6:00 – 7:15 p.m. at the Clarence White Memorial Family Life Center, 200 W 8th Street, Bonham, TX. Attendees are encouraged to wear masks and social distancing is observed.