Lifestyles
Still on the Hill brings lively and creative style to Harmony House free virtual concert
Aug 23, 2020
Fannin County, Texas -- On Sunday, August 23, 2020, from 3:00-5:00 p.m., Harmony House Concerts will welcome back Still on the Hill performing for us from the Ozarks. Faye & Scott, hosts of Harmony House Concerts, invite you to be a part of this delightful adventure that will take you down both old and new musical trails created by Donna and Kelly Mulhollan. (More info about these two gifted artists below.)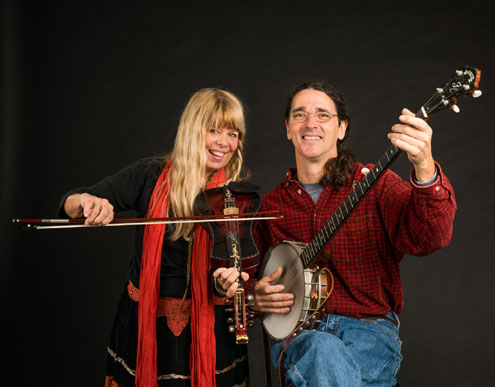 This is a free concert and everyone is welcome! It will be sponsored by Harmony House Concerts but hosted on a Zoom platform that is easily accessible to anyone with a desktop or laptop computer. To attend, please shoot an email to still@stillonthehill.com and let Donna know to include you in the Zoom Room that Sunday. This event will "lift your spirits high, like an eagle soaring through the Ozarks."
A few days before the event, Donna will send you the Zoom link, ID#, and Password, if necessary, to allow you to enter the Zoom Room. Along with this email, you'll receive a simple tutorial about using Zoom if this is your first time to do so; it's easy peasy! When you enter the Zoom Room (a few minutes before the 3 pm showtime) we'll all be together and can be seen and heard. Instructions about muting your microphone during each song, unmuting, and using the chat option will be explained at the beginning of the show. Still on the Hill plans to play and enchant you with stories and visuals along the way for 1 hour and 15 minutes. Then, there will be 30 minutes after the show for any Q & A and interacting with these creative artists and one another. If you have a guitar or banjo, you might even play/sing a song for the group or lead us in a virtual "sing-along."
Donations will be graciously accepted but not expected during these challenging times. The main purpose of the concert is to connect us in the best and safest way possible right now, using music as a river of hope and inspiration. Should you want to donate, you may do so in one of three ways:
Check -- Made out to Still on the Hill and mailed to 885 N. Fritz Dr., Fayetteville, AR 72701 (before, during, or after the concert)
PayPal -- Go to your PayPal account and send your donation to still@stillonthehill.com or go to PayPal.me/stillonthehill (before, during, or after the concert)
Credit card -- If you want to use your credit card, just tell Donna when you notify her that you want to attend. She'll get in touch with you to get your credit card info. (This can be done before or after the concert.)
More about Harmony House Concerts: Visit the Harmony House Concerts Group on Facebook. Join to receive notifications about this and other upcoming Harmony House Concerts. Also, go to the "Harmony House" page at www.WildscapeAcres.com.
More about Still on the Hill: Visit www.stillonthehill.com
Still on the Hill is a national and international touring group from Arkansas that has been described as "Ambassadors of the Ozarks" for the work they do to preserve a rich culture that is quickly disappearing.
Kelly & Donna of Still on the Hill are award-winning "story telling-song writers." Different from most singer-songwriters, this dynamic duo embellishes their songs with a host of unique instruments from the hills they call home. Many of these were handmade by old-timers and have amazing stories that go with them. Their "low tech Power Point" has become a trademark of their shows. Every song has a photo quilt to go with it. A picture is worth a 1,000 words.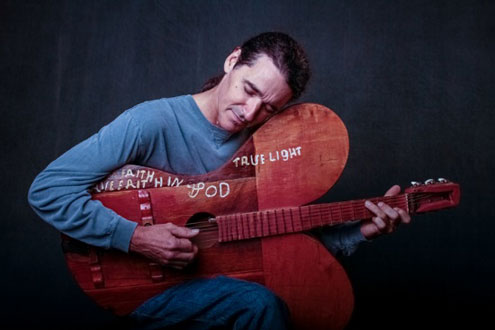 Kelly Mulhollan is a fifth generation native Arkansan. At six years old he cut his teeth playing ukulele and listening to Bob Dylan, Woody Guthrie and Pete Seeger. Now, when he plays the guitar, banjo, mandolin, harmonica, ukulele or upright bass, you can hear all those influences -- along with his strong Ozark roots -- coming through to create a sound that is unique to Still on the Hill. Kelly's masterful songwriting dips into the deep well of history, and his love for the Ozarks is alive in every word and note he plays.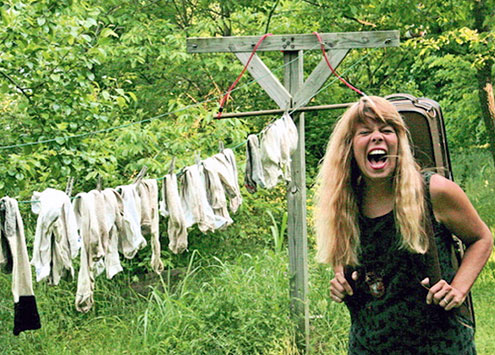 Donna Mulhollan learned the fiddle in the kitchen with her dad, who played the guitar and sang old Hank Williams and Bob Wills songs. For 35 years she toured the country playing with various country-western bands and even did a stint with a large Las Vegas show. At 18 Donna had met an old fiddle maker named Denton Boze who lived in a tarpaper shack in the Arkansas backwoods. She was inspired to write her first song about him -- and that opened a floodgate of songs, many about people and places in the Ozarks. Her instrumental palette includes several one-of-a-kind Ozark-made fiddles, mandolin, musical saw, scrub-board, ukelin, guitar, mule-jawbone and Ozark pickin' bow.