Local News
Virtual Public Hearing - Texas Transportation Plan 2050 (TTP 2050)
Aug 9, 2020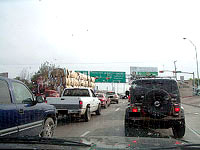 Austin, Texas -- The Texas Department of Transportation (TxDOT) will host a virtual public hearing 10:00 a.m. Tuesday, August 11, 2020 to present the Draft Texas Transportation Plan (TTP) 2050 and solicit public comments. During the virtual public hearing, planning team members will present the draft plan. The presentation will include both audio and visual components. An opportunity for formal comment will be provided following the presentation. Comments can be made by calling in to the number above or provided by mail, email, or voicemail as described in the downloadable notice below. All written comments must be received by Aug. 24, 2020 and calls by 5 p.m. that day.

The Texas Transportation Plan 2050 is the update to the Stateís long-range multimodal transportation plan. It is a policy document that guides TxDOTís policy and decision-making by setting a long-range vision and direction for the future of the transportation system. The TTP 2050 presents the updated goals, objectives and performance measures. It provides a snapshot of the Stateís multimodal transportation network, covering roadways, pedestrian and bicycle facilities, transit, freight and passenger rail, airports, waterways and ports, pipelines, and the interstate system. The TTP 2050 includes other important elements, such as analysis of performance and forecasted revenues and a plan for incorporating emerging technologies.

TxDOT makes every reasonable effort to accommodate the needs of the public. The virtual public hearing will be in English. If you have a special communication accommodation or need for an interpreter, a request can be made. If you have a disability and need assistance, special arrangements can also be made to accommodate most needs. Please call (512) 507-0084 no later than Fri., Aug. 7, 2020. Please be aware that advance notice is requested as some accommodations may require time for TxDOT to arrange.

Downloads:

Notice

Draft Texas Transportation Plan 2050 http://ftp.dot.state.tx.us/pub/txdot/tpp/2050/ttp-2050.pdf

Comment Form

Contact:

TxDOT TPP - TTP 2050
P.O. Box 149217
Austin, TX 78714-9217
(512) 486-5149
Email

Tuesday, Aug. 11, 2020
10 a.m.

Where:

In response to the COVID-19 pandemic, this hearing will be held virtually. To access the virtual hearing, please see instructions below.

Virtual Public Hearing - WebEx meeting link - Join Meeting
Hearing Number (access code): 160 947 9311
Hearing Password: C3SpynVrG45

Join by Phone
Dial: (415) 655-0003
Access Code: 1609479311

Register in Advance to Speak After Hearing (optional)
Dial: (855) TEXAS-50 (1-855-839-2750)
Please leave your full name with spelling and a phone number, no later than Mon., Aug.10, 2020 at noon.