Local News
TxDOT completes US 380 Collin County Feasibility Study
Aug 5, 2020
Collin County, Texas -- TxDOT has completed the US 380 Collin County Feasibility Study. The final study report is available here.
The Collin County study area has been separated into five independent project segments. In each of these segments, TxDOT will complete a more in-depth environmental study, public involvement, and schematic design.
These projects will advance at different paces depending on the need and availability of funding. The following are the five Collin County project areas that will be studied: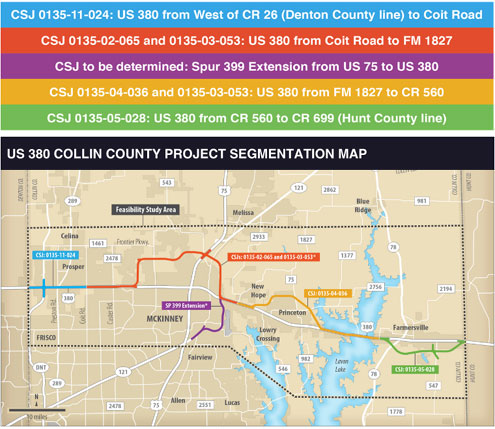 Due to the complexity of the projects and number of possible impacts, TxDOT has begun additional environmental review and schematic design on the US 380 from Coit Road to FM 1827 project and Spur 399 Extension from US 75 to US 380 project.
Please click here to indicate if you are interested in receiving updates for either project.
As the projects move forward, more information will be made available at www.Drive380.com.
If you have general questions or concerns regarding the proposed projects, you may contact the TxDOT project manager, Mr. Stephen Endres, P.E., by phone at (214) 320-4469 or by email at Stephen.Endres@txdot.gov.