Local News
Fannin County Commissioners Court set to name EMS provider
Aug 4, 2020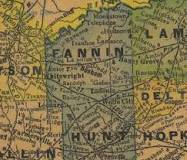 Fannin County, Texas -- After a series of final interviews with representatives of four Emergency Medical Service providers on Monday, August 3, Fannin County Commissioners Court is apparently set to name the county's EMS provider at a regular meeting Tuesday morning.

Commissioners court convened for a special meeting Monday and immediately went into executive session to deliberate the EMS issue.

After conducting interviews for an hour, commissioners court resumed its regular meeting and Fannin County Judge Randy Moore said the county's EMS provider would be named Tuesday during a regular meeting of Fannin County Commissioners Court.

Commissioners court also spent time refining the county's proposed budget and discussing the proposed tax rate for the coming fiscal year that begins October 1, 2020.

Judge Moore has based the proposed budget on a tax rate of $0.589, the current tax rate.

"I'd like to see if we can possibly make that work," Moore remarked, in reference to maintaining the same tax rate for the coming fiscal year.