Front Page
COVID-19 surge continues in Texas
Jul 1, 2020
Austin, Texas -- Tuesday was another record-setting day for COVID-19 cases in Texas with 6,975 new cases -- almost 1,000 more newly confirmed cases than the second highest day (5,996) on June 25.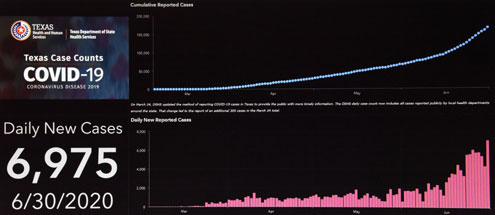 Harris County reported 1,453 new cases Tuesday, its second-highest one-day total to date, and the county now has a staggering 18,507 active cases.
Bexar County also had its second-highest one day total with 650 new cases Tuesday.
Travis County turned in its third-highest one day total with 508 newly confirmed cases Tuesday.
Meanwhile in North Texas, Dallas County has had four consecutive record-breaking days, starting with 496 new cases on June 27; 561 new cases June 28; 570 cases June 29; and now 572 cases June 30.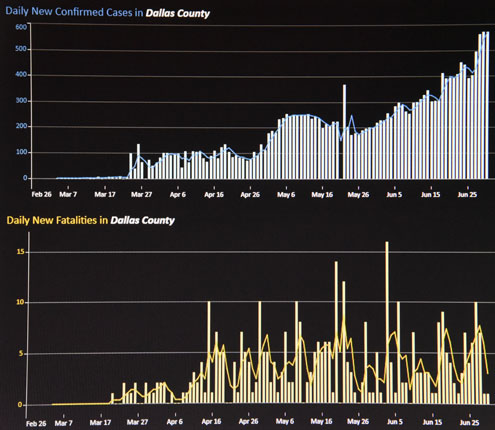 Tarrant County's numbers offered encouragement with only 263 new cases Tuesday, a significant drop from a record-high 517 cases June 16.
An alarming trend in Collin County caused McKinney Mayor George Fuller to implement a mandatory mask policy for the city's businesses and non-profits beginning Wednesday, July 1, 2020.
During the past three days, Collin County has averaged 116 new cases per day.
Denton County reported 70 new cases Tuesday.
Also on Tuesday, Hunt County turned in 28 new cases, Lamar County was notified of 18 new cases, Cooke County reported eight new cases, while Fannin County and Grayson County both had six new cases.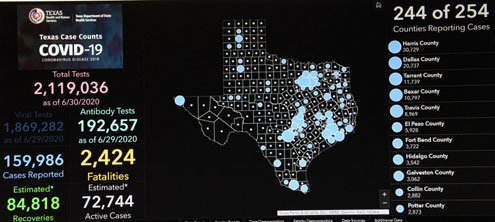 Out of 159,985 confirmed cases of COVID-19 in Texas, there has been an estimated 84,818 recoveries. Currently, the state has 72,744 active cases and there has been 2,424 COVID-19 fatalities.