Entertainment
'The Plots Thicken' - A fascination with Willow Wild Cemetery in Bonham, Texas
Jun 22, 2020
The rumbling of his cart
"With the peddler-man I should like to roam,
And write a book when I came home;
All the people would read my book,
Just like the Travels of Captain Cook."
-- William Brighty Rand
Shucks! Corn, that is. From 1918 until the early 1950s, Charles Stokes methodically and skillfully wrapped his home-ground tamale blend with corn husks before placing them in his portable tamale cart. A tasty hot tamale is a fondly remembered tradition of Fannin County lore.
The moveable cart, propelled by Mr. Stokes's muscles and two bicycle wheels, was a six-days-a-week fixture on the northwest corner of the courthouse square in Bonham. Raising a family by his artist's hands meant that Charles Stokes didn't have the luxury of closing up shop and enjoying paid vacations. He peddled 25-cents-a-dozen tamales through heat and cold, rain and snow, depression and war, good times and bad times.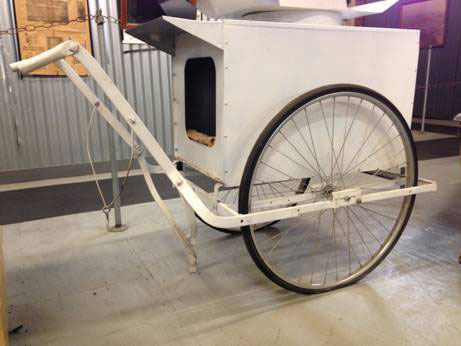 Jackie Herriage tells of Stokes being invited to the barn of Jackie's father, Ulta Herriage, of the Moore's Chapel Community. Mr. Stokes would shuck the corn; and, in turn, he used the husks to encase his tamales. It was the perfect arrangement for both men---Charles had his tamale husks, and Ult got his corn shucked.
Every day, Mr. Stokes launched a long trek by foot from his house in far south Bonham to the downtown square. With windows and doors open because of no air conditioning, neighbors could hear the rumbling of his two-wheeled cart. Like clockwork, Charlie's tamale cart rumbled past Iva Loy and James Bowen's house on Fourth Street at 11:00 every morning. Sue (Sturgeon) Rogers recalls Charles Stokes being a small, quiet man and standing "about half as tall as Uncle Charlie Currin." Her family raised its own food, with the help of the garden, chickens, and a cow. "So, hot tamales were a real treat for us."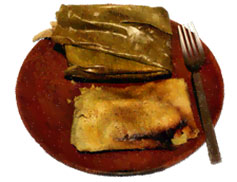 Hot tamales were also a Saturday tradition for Carolyn (Campbell) Denton. While her father, Malcolm Campbell, was serving his country overseas, Carolyn's family lived with her grandparents, Mildred and Will Nevill. Will worked at Leatherwoods Menswear on the west side of the square. Carolyn said, "In those days, everybody went to the square to visit on Saturday night, since there was no TV. We had tamales every Saturday for supper." Carolyn clarified that supper was the night meal in those days. Dinner, on the other hand, was served at noon.

Peggy (Wade) Herriage recalls: "It was a big treat when Mother would buy a dozen or so tamales on Saturday after she had bought groceries. Mr. Stokes would wrap them in newspapers for us to carry. I could hardly wait until we got home to eat one."

With a paper route to ensure he had coins in his pocket, Bob Dorough became one of the tamale peddler's most loyal customers. In fact, years later, while Bob was a Marine and away from home, his dad, Deets Dorough, bought the "retired" cart from Frank Elkins as a surprise for his son. It was a treasured gift because Deets knew how much his son loved the Charlie's tamales. Bob said, "I can see Mr. Stokes pushing that cart from south Bonham along Main Street, stopping at the Cotton Mill to deliver tamales to his customers." Eventually, Bob Dorough gave the cart to the Stokes family, who donated it to the Fannin County Museum of History.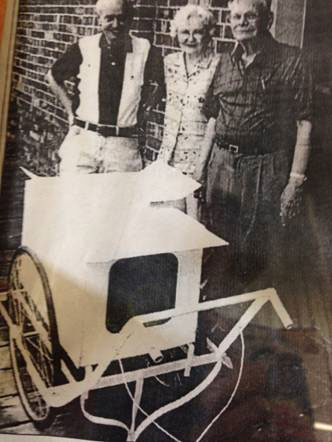 Pictured are Tom Scott, Winifred Stokes, and Charles Stokes, Jr. at the museum in Bonham.
One of the most famous fans of Charles Stokes's tamales was Speaker of the House Sam Rayburn. When Mr. Sam would have a party in Washington, D.C., he'd ask Mr. Stokes to send tamales as a special treat for his party guests. Charlie Stokes packed his homemade tamales in a 20-pound lard can, addressed it to "Sam Rayburn, Washington, D.C.", and sent them on the bus. Rayburn received them every time.
Through diligence and devotion, quiet little Charlie Stokes was able to put his two children through Texas Tech with a home-crafted cart, holding hand-filled and love-wrapped corn tamales. It was quite a feat, even with college tuition at $30 in the 1930s.
Charles Stokes had blue-collar roots and white-collar dreams for his two children, Charles G. and Laura Elizabeth, who became a successful engineer and a respected educator, respectively. Father's Day is a reminder that dads work to uncover untapped resources and they vow to provide far more opportunities than they were given. And Charles Stokes toiled, labored, and persevered with a simple philosophy:
"You cannot sell from an empty cart."