Front Page
TMC Bonham Hospital adds Rapid Disinfector™ UV Disinfection System
Jun 12, 2020
Bonham, Texas -- TMC Bonham Hospital has added a layer of infection prevention through a gift from the Fannin County Hospital Authority. The hospital now has a Rapid Disinfector™ UV Disinfection System, a mobile unit that can be transferred throughout the hospital and uses ultraviolet light to eliminate germs that collect in hospital rooms.
Studies have shown that UV-C light kills certain drug-resistant bacteria on hard surfaces typically found in hospital rooms. The machine has sensors that indicate when enough UV-C light has filled the room to disinfect it. Depending on the size of the room, germs may be eliminated in 15-30 minutes.
The use of UV-C light is just one of a number of methods that staff at TMC Bonham Hospital employ in their fight against infection. In addition, they participate in frequent hand-washing, universal masking and precautions are in place for contact with infected patients.
"Patient safety and protection is our goal and thanks to this gift from the Fannin County Hospital Authority, we're able to add another layer to kill off any microorganisms that might be around," says Terri Heaton, Coordinator of Infection Prevention at TMC Bonham Hospital.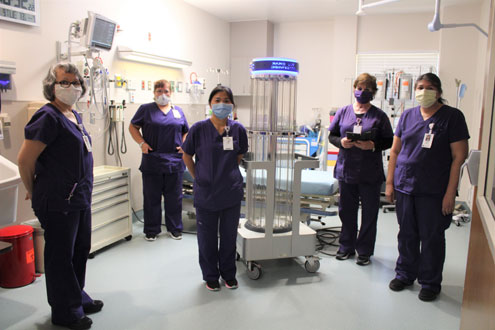 TMC Bonham Hospital - EVS Staff with Rapid Disinfector UV System
For more information about safety measures in place at TMC Bonham Hospital visit https://tmcbonham.com/covid-19-safety-frequently-asked-questions/.