Lifestyles
Native Texas Butterfly House & Garden open at Heard Museum
Oct 12, 2020
McKinney, Texas -- Walk among free-flying native butterflies and other pollinators. Guests will be able to view butterflies up close while learning about their life stages and more. The Native Texas Butterfly House & Garden is included in general admission and free for Heard Museum members.
The butterfly house is regularly stocked with an assortment of native butterfly species, which varies throughout the exhibit. Guests may even get to see a butterfly emerge from a chrysalis. Inside the butterfly house, nectar plants are also available to feed the adult butterflies. There are often even a few host plants for caterpillars to feed on.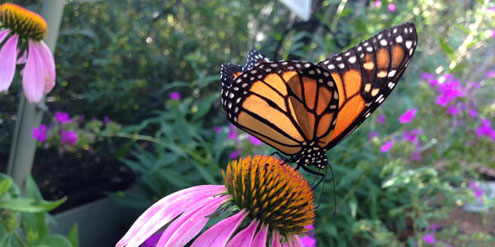 Monarch, Danaus plexippus, at the Heard
The butterfly garden, too, is filled with nectar plants and host plants that naturally attract these lovely creatures. Guests may even find a few ideas to try in home gardens, which can in turn help pollinators on a broader scale. From time to time, other species of wildlife that feed on insects or the nectar plants may also be found in the butterfly garden, including hummingbirds. This area is also a great setting for nature photography. Learn More.
Social distance in nature
To minimize contact, admission and membership may be purchased online in advance. Please practice all recommended safety practices including maintaining social distancing (remain 6 feet from anyone who is not in the group you're visiting with). Come explore our 289-acre nature preserve and more. Learn More.