Lifestyles
King of Beasts now open at the Witte Museum
Jun 8, 2020
San Antonio, Texas -- Explore extraordinary African lions and majestic mountain lions of Texas this summer at the Witte Museum. Experience the power of lions through artwork by renowned artist John Banovich and see the connection between the big cats of today and their prehistoric ancestors.
King of Beasts spans nearly 25 years of research featuring more than 30 artworks by renowned artist John Banovich. The exhibition assembles a collection of Banovich's work focused on African lions and explores questions about humankind's deep fear, love, and admiration for these creatures.
In addition, this exhibit will examine the evolutionary relationship of today's big cats with the prehistoric American Lion and saber-tooth cats that once lived in what is now Texas 13,000 years ago.
"We are pleased to have the beautiful paintings of John Banovich the summer at the Witte Museum's Susan Naylor Center, said Marise McDermott, President and CEO of the Witte Museum. "This exhibit gives us the opportunity to learn more about African lions and animals, as well as Texas mountain lions. Most important, how humans have a critical role in conserving these majestic animals."
"I am so thrilled to have this exhibition opening in one of the Top Museums in the Southwest that connects people to natural places…the Witte is the Perfect venue for "King of Beasts- A study of the African Lion" because they understand that nature is not something to be just preserved and viewed…it's something to be conserved and enjoyed and sustainably utilized by people of all ages. Its only in this understanding, that we will be moved and inspired to take action to ensure that Big Things with Big Teeth, and the Habitat they live on, will be around for our future Generations. This motivation is always at the heart of my Artwork," said John Banovich.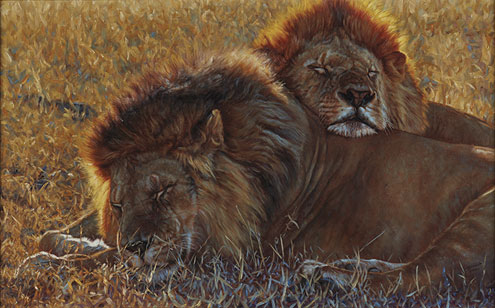 Partners, 2007. John Banovich. Oil on Belgian linen. 32" x 50". Collection of the James Museum of Western and Wildlife Art.
In Africa, the lion has served as a symbol of strength, bravery, and physical prowess among many cultures. However, today nearly all wild lions are found within small regions of Sub-Saharan Africa, and a tiny population exists in India. Outside of protected areas, the African lion is disappearing at an alarming rate. Learn what conservationists and communities are doing to conserve habitats in order for lions to thrive.
Mountain lions in Texas are common in the Trans-Pecos, South Texas and parts of the Edwards Plateau. They are expanding their range, with sightings reported in part of central Texas, according to the Texas Parks and Wildlife Department.
King of Beasts is included with Museum Admission reserve your timed-ticket online at www.WitteMuseum.org. Witte Museum Members do not need to reserve a timed-ticket reservation.
King of Beasts is generously presented by Susan Naylor and sponsored by Susan and John Kerr and Amy and Bradley Martin.
About the Witte Museum
Founded in 1926, the Witte Museum is where Nature, Science and Culture Meet, through the lens of Texas Deep Time, and the themes of Land, Water, Sky. Located on the banks of the San Antonio River in Brackenridge Park, the Witte Museum inspires people to shape the future of Texas through transformative and relevant experiences in nature, science and culture.