Entertainment
Veterans Day is 24 hours---a drop in the bucket
May 27, 2020
Bonham, Texas -- Lance Corporal Billy Roy Bowen's bucket list was full to the brim . . . with a single item---to serve his country. His bucket tipped over and spilled on March 18, 1968, in Quang Nam Province, South Vietnam.
Billy and his brother Robert were raised by salt-of-the-earth parents, including a mother who poured out her love for her sons with hand-sewn shirts, carefully-parted hair, and after-school treats. Billy's life-long friend Doris (Renshaw) Shockley said, "Billy was my first boyfriend. I couldn't resist those big eyes."
After Billy enlisted in the Marines, he was stationed in California and made frequent weekend trips back to his home in Bonham. As a soldier flying standby, he was never certain of his arrival time. The rule was strict, though---soldiers had to return to their base by midnight on Sunday. Violating curfew meant consequences, and Billy would jokingly say, "What can they do to me---send me to Vietnam?"
And they did. Rather than a consequence, though, the deployment to Vietnam was a new challenge to Billy Roy Bowen. He was chosen to be a squad leader with Company D, First Battalion, Seventh Marines, First Marine Division (Reinforced) with an MOS (Military Occupational Specialty) as rifleman in the Republic of Vietnam. This meant attending a class to learn the Vietnamese language prior to deployment.
Schooled, briefed, and ready, Billy made his final trip to Bonham before crossing the North Pacific Ocean to a world without Mama's peach cobbler, "Lassie," and Little League Baseball. Elkins Grocery provided the steak from its meat counter for Billy's going-away dinner, and James and Iva Loy Bowen were allowed to pay their grocery bill at the beginning of the next month.
With a house full of family and friends in the living room and spilling into the kitchen, Iva Loy stole a few private moments with her son in a back bedroom. His words blazed on her heart like sizzling water drops in a hot cast-iron skillet: "Mama, I won't be back. I'm willing to die for my friends." The same buddies who had joined the family for a steak dinner that night were waiting at Dallas Love Field the next day when Mr. and Mrs. Bowen and Robert arrived with Billy. Some nine months later when she received the dreaded news of Billy's death, Iva Loy found words in the Bible that helped make sense of Billy's crowning sacrifice: "Greater love hath no man than this, that a man lay down his life for his friends." John 15:13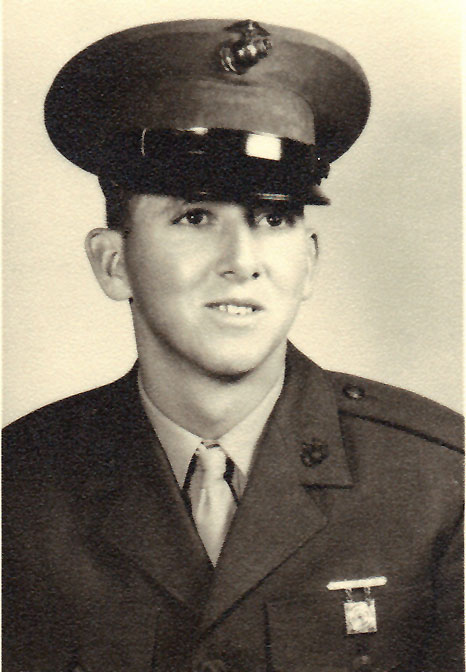 No longer able to toss Billy a baseball in the backyard or make him peanut butter and jelly sandwiches at the kitchen table, James and Iva Loy Bowen did the only thing they could do for their son---cultivate his final resting place into a pristine garden spot befitting an American soldier. It didn't matter to them that St. Augustine is a high-maintenance grass that requires copious amounts of water and a bottomless reservoir of attention.
With a soaker hose, an oscillating sprinkler, and the mower blade set on the highest level, Billy Bowen's plot at Willow Wild Cemetery was soon a thick green carpet lying beneath four live oaks and two weeping willow trees. While other people took to the lakes, the parks, or the countryside on a pretty day, Billy Bowen's parents chose to sit in lawn chairs for hours and assess their son's "quarters." Billy's brother Robert said, "If there was ever a breeze, it was out there on that hill." Daily trips to Willow Wild Cemetery became as much a routine to the Bowens as cooking breakfast, going to the mailbox, or removing their eyeglasses at bedtime.
Iva Loy Bowen fulfilled a pledge that she made over six decades ago---to be a nurturing mother for the rest of her life. Since her husband's death in 2007, her cemetery caretaking abilities were reduced to sitting in a lawn chair and whacking weeds with a hoe. But after 45 years, her loving care, albeit limited, was her heart's way of working the bucket brigade.
Mrs. Bowen's home was approximately 200 yards from the Veterans Administration in Bonham. When she observed one of the veterans walking past her house en route to or from the V.A., she'd express with kindness: "We should respect all of our veterans, for we don't know what they've been through."
Ronnie Giddiens was one of Billy's classmates. He reminisced: "When I look back on my life (marriage, children, career, travel, etc.), I realize that Billy didn't have a chance for any of the things I've been privileged to do."
On this Veterans Day, let's remember that Lance Corporal Billy Roy Bowen willingly emptied his bucket so ours can be filled.
cindybaker@cableone.net