Local News
Electrical wholesale distributor opens new store in McKinney
May 24, 2020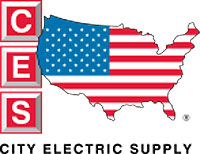 McKinney, Texas (May 22, 2020) — City Electric Supply (CES) is excited to announce the opening of its first McKinney location. A city, according to Branch Manager Zach Litchen, that can't be tied down to one specific industry.

"Of course there's a lot of industrial and commercial work here, but with how fast McKinney is growing, it's almost like they can't build homes fast enough. Residential is going to be big, but we're looking forward to seeing how we can serve all three of those markets. We have a massive, 10,000-square-foot branch, so there's almost nothing we can't do here," said Litchen.

But it wasn't an easy process. Litchen and his team landed on the location for the branch in January, and while it was the perfect spot, it still took four months to prepare it. The large space had a lot pipe racks, pallet racks, wire racks, and shelving that needed to be done by hand. One of the challenges the team faced was not having electricity for a couple of months.

"The process was a long one. Even though the shell of the building was pretty much perfect, we still had 10,000 square feet of space, 28-foot ceilings, and a ton of racks to finish while working in the dark. But at the end of it all, this process has given me and my guys a different appreciation for this branch. It really feels like it's ours now," said Litchen.

According to Litchen, the branch space is what's going to help separate them from all the other suppliers in the area.

"We have a ton of room for inventory in our warehouse and even a loading area so customers can just pull up, load up, and get to the next job," said Litchen. But even with all the inventory, the actual branch itself is still very open. We can keep a lot of everyday items stocked, and once we get a feel for what customers and businesses in our area need, we'll keep that on-hand as well."

And what makes the CES McKinney branch even more unique is the young team that's hungry for success. Litchen himself has only been with CES for three years. Today, at only 25, he's running his own branch in one of the fastest-growing cities in the country. He achieved his success through hard work and the right type of training.

"Saul Leyva and Tyler Vandiver at CES Denton hired me as a Counter Rep and taught me everything electrical. They were really patient with me, taking the time to show me the ropes. I owe them a lot for how well they prepared me for running my own branch," he said. "I also had the chance to ask other branch managers around here a bunch of questions. Talking with them and taking just about every course I could in CES University really taught me everything I needed to get to this point."

And while he just moved to McKinney in January, Litchen absolutely loves living and working there.

"This place already feels like home. The people here are very open and welcoming throughout the town. It seems like you could talk to anyone on the street and end up in a conversation with them for hours. Everyone's just so friendly, and they're genuinely good people."

The location and that positive culture in McKinney are what Litchen believes will help make the branch successful.

"We're the northernmost branch out of the DFW group, so we can cast a pretty wide net and really go out and chase customers. With McKinney being one of the fastest-growing cities in America, we should be a pretty popular double book capital as well. And then, of course, there's the team. We all go out of our way to provide A+ service. Any time a customer comes in, that's going to be the standard experience they get. Nothing but our best."

About City Electric Supply (CES) is a family-owned electrical wholesale distributor headquartered in Dallas, Texas. The company was founded in 1951 by Tom Mackie in the United Kingdom and expanded to the United States in 1983. Today, CES employs more than 3,000 people in over 500 branches across the U.S.

CES is dedicated to providing personalized service and support for customers in the residential, commercial, and industrial marketplace. While CES is a large company, it prides itself in keeping its founding principle of empowering people to make local business decisions by providing customers tailored services for all their electric supply needs.