Lifestyles
Powder Creek Pavilion presents two bands May 23
May 23, 2020
Bonham, Texas -- Powder Creek Pavilion is announcing its grand reopening Saturday, May 23 at 7:00 p.m.
This will be a free concert, but donations are appreciated. Bring your cooler. Must be 21 to drink alcoholic beverages.
Opening the concert will be Still Kickin', a fairly new classic rock band from our area soon to become everyone's favorite.
Headlining the show will be 78 Live, one of Fannin County's favorite classic rock dance bands. You will not be disappointed.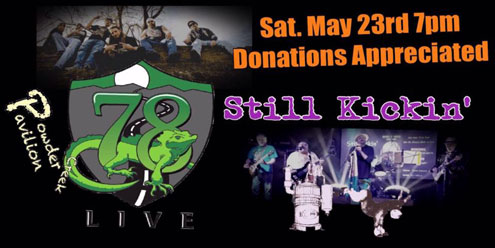 "This is our first post-coronavirus shutdown event," said promoter Rick Massey. "Due to the fact that we are an outdoor facility, everyone will be spread out and encouraged to keep social distancing. Hand sanitizer will be available and we plan to have masks for sale."
"I am very proud to announce that we now have indoor restroom facilities," added Mr. Massey.
Coffee, tea and popcorn will be served. Soda pop, chips and candy will be available.
Powder Creek Pavilion
520 S Center St.
Bonham, TX. 75418
(903) 227-1911