Lifestyles
Butterfly gardening
May 12, 2020
Fannin County, Texas -- Creating a Butterfly Garden is a rewarding approach to attract these insects while aiding their conservation. These special gardens provide an outdoor haven and natural habitat using a wide variety of native plants. Butterflies aid in pollinating many flowering plants. However, butterflies are picky in choosing which plants they use for feeding, egg-laying, and resting. Nectar plants for adults can be different than the host plants needed by the larva. Host plants for caterpillars are specific to the insect species and the region.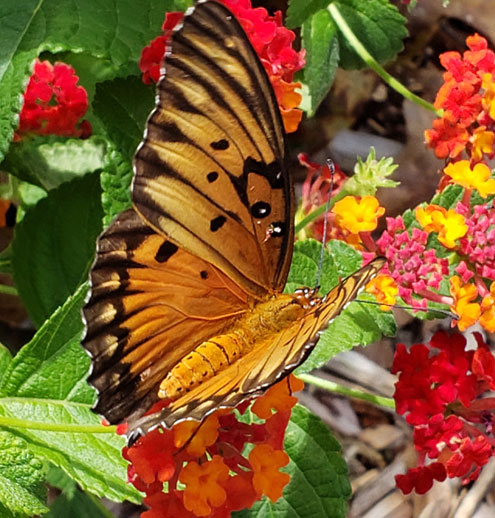 Gulf fritillary butterfly
Butterflies are guided to the nectar by colors and patterns. Choose flowers with bright colors like pink, orange, yellow, white and purple. Some butterfly species cannot see red, and not all brightly colored flowers have nectar. Choose fragrant flowers to attract butterflies. Flowers with large petals or composites such as zinnias and daisies provide easy landing for butterflies. Realize host plants for larvae will look ragged as the caterpillars eat them. Donít use insecticides or pesticides in your butterfly garden.
Essential planning guidelines:
Determine the butterfly species in your region. Select native plants that will attract these species.

Be mindful to give your visitors plenty of sun, yet also provide protection from wind and rain.

Ensure that both diverse adult nectar plants and a variety of caterpillar host plants will be present in your garden.
Host plants: Clover, Dill, Fennel, Hackberry, Lantana, Paintbrush, Passion vine, Sunflower.
Nectar plants: Blue Mist Flower, Butterfly milkweed, Beebalm, Black-eyed Susan, Coneflower Coreopsis, Evening Primrose, Lantana, Sages, Turkís Cap
For more information visit Lady Bird Johnson Wildflower Center website.