Farm and Ranch
Rare native prairie near Texarkana preserved by family, conservation groups
Jul 4, 2020
New Boston, Texas -- Fifth-generation Texans, David and John Talbot of New Boston, in February 2020 sold one of the last examples of unplowed native prairie in northeast Texas to the Native Prairies Association of Texas (NPAT) for permanent preservation as the Talbot Brothers Prairie Preserve. The 366 acres in Bowie County also includes more than 200 acres of bottomland hardwood forest and wetlands.
The Talbot family owned the property for more than 55 years. "The land stewardship and preservation of these unique prairie lands into the future is very important to our family's legacy," said John Talbot. "Our mother, Mary Talbot, initiated a similar transaction several years back." Those 115 acres, also near New Boston, are called the Mary Talbot Prairie.

Mary Talbot Prairie
NPAT is a nonprofit organization and land trust dedicated to the restoration and conservation of prairies throughout the state of Texas. Their experts will manage the property to ensure that the preserve remains in good condition.
"We are thankful for landowners like the Talbots who recognize the value of these prairie lands as a precious natural resource, for not only today but forever," said Kirsti Harms, NPAT Executive Director.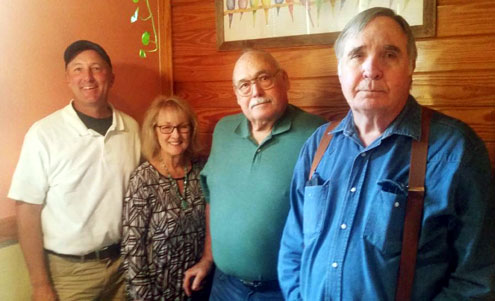 Jason Singhurst of NPAT, Pat Merkord of NPAT, John Talbot, David Talbot
Tallgrass prairies once covered more than ten-million acres in north-central Texas, stretching from San Antonio to the Red River. Because of the region's productive soils, most prairie lands were converted to farmland more than a century ago. Additional acreage fell to urban development with the expansion of Dallas-Fort Worth and other cities. Experts estimate only 1 to 2% percent of the original prairie is left today.
The Talbot Brothers Prairie Preserve is even more exceptional for the plentiful presence of a native grass known as Silveus dropseed. Prairies with this grass are found nowhere in the world except northeast Texas and are one of the most rare landscapes in the Lone Star State.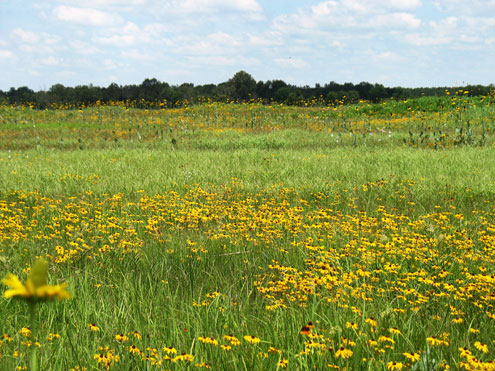 Talbot Brothers Prairie Preserve
The funding to purchase the property came from a damage settlement related to the former Kerr-McGee creosote wood-treating facility in Texarkana. State and federal agencies, including the Texas Commission on Environmental Quality, Texas Parks and Wildlife Department, Texas General Land Office, and U.S. Fish and Wildlife Service, allocate these settlement funds to projects that compensate for the damage done to creek and wetland habitats.
The Talbot Brothers Prairie Preserve has been in hay production for decades. This practice of not plowing the land maintained the prairie's natural character, including colorful seasonal wildflowers and waving tall grasses that are knee-high by midsummer when the hay is cut.
While conventional improved pastures usually have only a few plant species, the preserve boasts more than 330 varieties of plants in the prairie, wetlands, and woodlands. Native prairies are also crucial for wildlife such as songbirds and bobwhite quail, including endangered grassland birds, and a variety of essential pollinators.
"The prairie land was a real blessing for us," said David Talbot. "Native prairie grasses are very palatable and require the least care of any kind of hay operation. Others around us converted to improved pastures, but we never did."
A conservation easement held by The Nature Conservancy (TNC), a global nonprofit organization dedicated to conserving the lands and waters on which all life depends, will additionally protect the preserve.
"We feel very fortunate to be able to protect one of the best examples left of the natural heritage of northeast Texas," said David Bezanson, protection and easement manager for TNC. "We are grateful to the Talbot family for managing the property so well and for helping sustain a Texas legacy by conserving it."
For more information about the Native Prairies Association of Texas, visit their website at texasprairie.org. For more information about The Nature Conservancy, visit nature.org.

Jason Singhurst of NPAT, Pat Merkord of NPAT, John Talbot, David Talbot