Lifestyles
Country music at Powder Creek Pavilion Nov. 16
Nov 16, 2019
Bonham, Texas -- Powder Creek Pavilion in Bonham will host a country music concert Saturday, November 16, featuring Lightning Ridge. Music is scheduled to begin at 7:00 p.m.
"The Lightning Ridge band is a regional, fun-loving, country dance band," says promoter Rick Massey, "so bring your cooler, your dancin' shoes, and come prepared to have a good time!"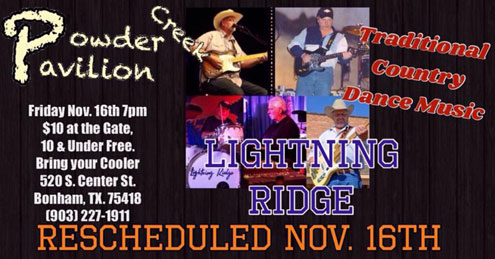 Gates open at 6:00 p.m. and music starts at 7:00 p.m.
Bring your coolers.
$10 at the gate, children 10 and under free.
For more information, please call 903-227-1911.
Powder Creek Pavilion is located at 520 S. Center St., Bonham, Texas 75418. For more information, please visit www.powdercreekpavilion.com