Sports
Texas Freshwater Fisheries Center in Athens, Texas is worth a trip to see
Dec 10, 2019
Athens, Texas -- The Texas Freshwater Fisheries Center (TFFC) is all about conservation, education about aquatic ecosystems, and advocating for fishing. Tours for schools are always welcome as well as individuals and families, and it is worth the trip.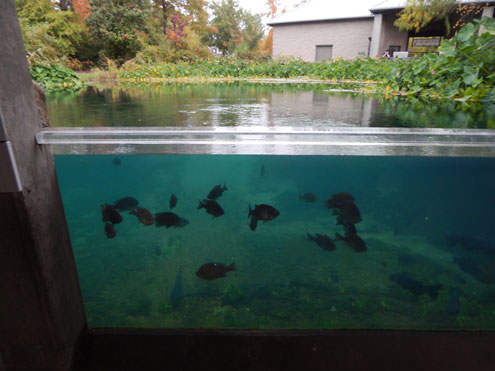 Fish in the aquatic ecosystem waiting to be fed.
TFFC opened in 1998. They average a first fish caught every day at the casting pond. The range of people's ages catching their first fish are from the very young to us more mature individuals. A 10-pounder was caught in the casting pond by a fly fisherman. You can also buy a harvest tag for trout or catfish at the casting pond. Rods and bait are available.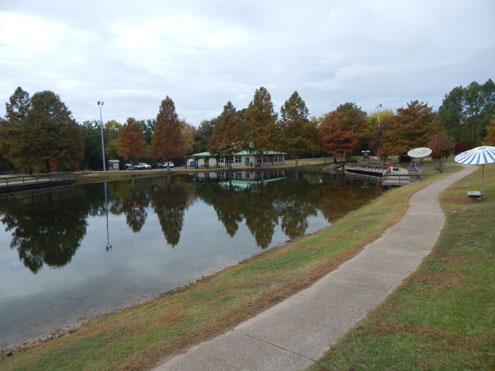 The casting pond
Part of the Lunker Bunker, which is where the ShareLunkers are housed, is being shown by Tony Owens. This is one of the tanks new ShareLunker bass are placed in when they first arrive at the TFFC.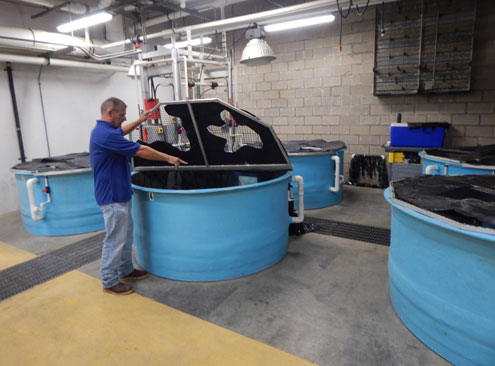 Tony Owens shows the holding tanks in the Lunker Bunker.
Leslie Kessner shows some simulated habitat used to help the fish get used to their new surroundings.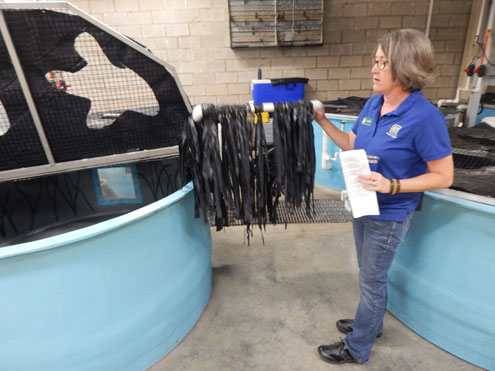 Leslie Kessner shows simulated vegetation
The holding tanks are painted camouflage colors, have covers to simulate clouds, and have simulated vegetation in the water to help settle the fish down and make them feel at home. The holding tanks are for when they first arrive and need to be fed and sometimes medicated.
Goldfish, shad, and trout are used to feed the big bass as they are higher protein and help the fish gain weight and stay healthy.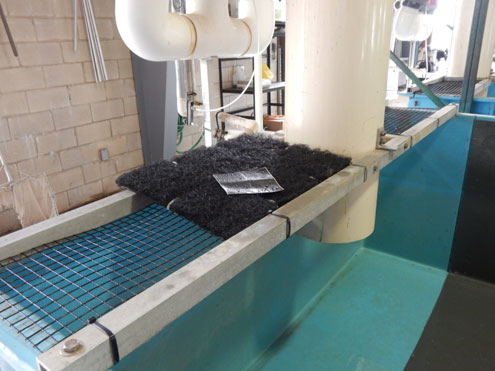 Mats used for spawning.
Mats are used to hold the fertilized eggs. For the ShareLunker program, AstroTurf mats are used as the eggs are easier to retrieve. The AstroTurf mats are just like the ones you buy at any store.
Just like all impoundments, these fish are prone to predation. All the activity around the ponds is one phase of protection, but sound is also used to keep avian predators from eating the young fish.
The Toyota ShareLunker Program, uses only pure strain Florida bass for producing fry for their program. The hope is to have all fish produced there to have these superior genetics. The hatchery is keeping fry from the ShareLunker program in anticipation that all fish produced there will have ShareLunker genes.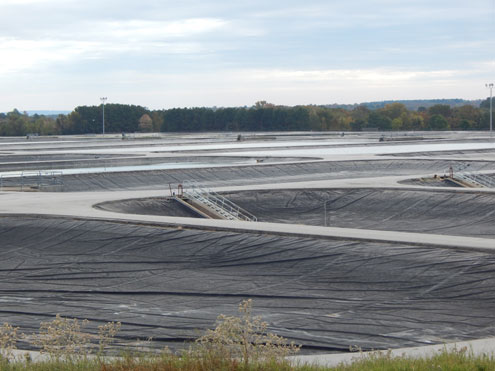 There are 35 acres of ponds at TFFC.
There are 35 acres of ponds at TFFC. There are 45 ponds as large as 2 acres, most are 1 acre and some ½ acre. 90% of the hatchery's production is largemouth bass, and the other 10 percent is forage fish for the bass. They do have catfish and trout at TFFC but they are produced at other locations. Catfish are produced at the San Marcus hatchery and trout are brought in from Missouri.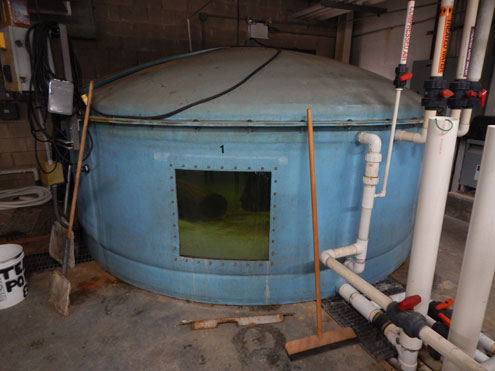 581's current residence
ShareLunker 581 spawned twice in 2019 producing approximately 14 to 15 thousand eggs at the end of March and 10 days later produced another 23 to 24 thousand eggs. 2,000 of these selectively bred bass were placed in several ponds that will be inundated when Bois d'Arc Lake fills. The six- to nine-inch fingerling bass, which came from 581, are expected to grow quickly to two- to three-pounds each in only a couple of years, and be capable of spawning themselves by the time the reservoir fills and inundates the stocked ponds.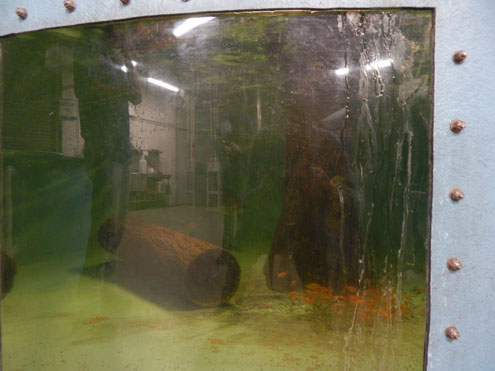 581 is in there, but hard to see...
This process will allow the fingerlings to maximize their genetic influence within the future lake's bass population. Brad Scott of Gun Barrel City caught ShareLunker 581 on a plastic worm in 4 feet of water at Lake Leon near Abilene. She was caught by the husband of the former director of the TFFC. Lake Leon is their home lake.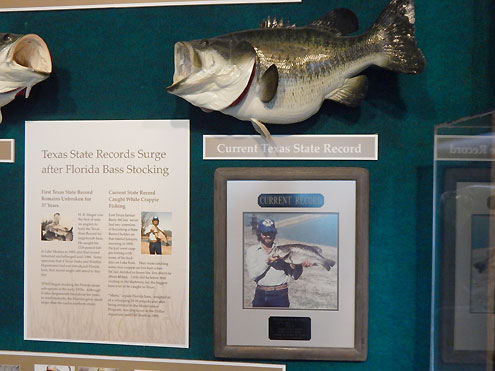 Replica of current state record
There is a replica of Barry St. Clair's current state record largemouth bass caught on Jan. 24 1992 which was an 18.18-pounder.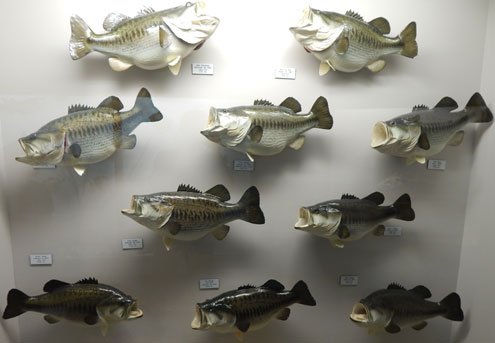 Replicas hang on the Wall of Fame
The crew at TFFC is excited about Bois d'Arc Lake and feel it has great potential. In new fertile lakes, fish can grow to lunker size in as little as 6 years. Typically, it can take as long as 10 to 12 years to reach lunker size.
Thanks to the Inland Fisheries Denison District - Texas Parks and Wildlife who applied for our fingerlings, as usually Toyota ShareLunker fingerlings are returned to lakes who have supplied Lunkers to the program, but as Dan Bennett explained, it was a special exemption as Bois d'Arc is a new lake. Mr. Bennett also explained that fingerlings are not raised to the size placed in Bois d'Arc Lake usually because of the cost. The larger fingerlings have a better success rate of survival and reproduction.
Thanks also to Tom Lang, Leslie Kessner, Kyle Brookshear, Tony Owens and Donovan Patterson for the information and working me into their schedule.
Here are the TFFC's web address and Facebook address.
https://tpwd.texas.gov/spdest/visitorcenters/tffc/
Texas Freshwater Fisheries Center - Texas Parks and Wildlife
photos by Jarrett Tucker