Lifestyles
It's all 'fun and games' in Denison, Texas
Nov 14, 2019
Denison, Texas -- Some day people around Denison will recall the 'hey-day' of entertainment around this area in the early 2000s; and many of those memories will begin this weekend when "HeyDay" opens to the public.
The newest entertainment venue in the area, situated in Gateway Village off US 75, includes lasertag, bowling, arcade games, mini-golf and a ropes course. The facility also houses a lounge and restaurant.
According to the HeyDay's Vice President of Sales & Marketing, Brooke Willhite, they opened Friday at 11:00 a.m.
"We are planning a day of food and fun to showcase what HeyDay is all about to our new community, said Willhite. "We will host a short ribbon cutting ceremony before welcoming our first guests into the building."
HeyDay will be celebrating by offering prizes, discounts and special offers throughout opening weekend. In addition to bragging rights about being the first to play in the new entertainment center, the first 100 guests will also receive a special HeyDay prize pack.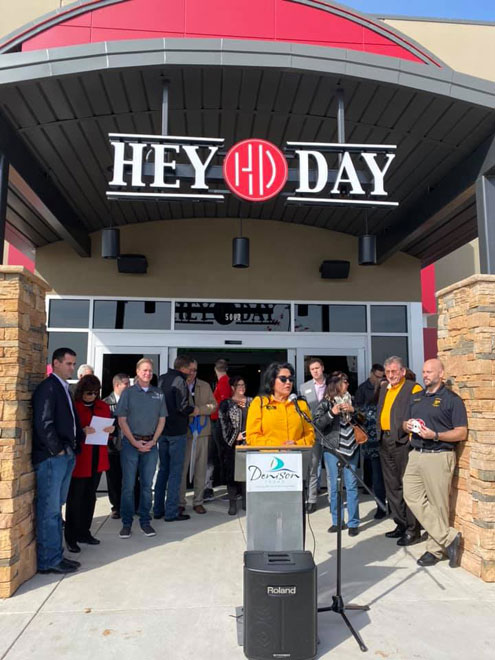 The eatery and 'fun hub' features 43,000 square-feet of attractions with bowling, laser tag, the ropes course and arcade on the inside; and the miniature golf (18 holes) on the outside. The lounge features an adult-only space with bowling, billiards and bar, specially designed for premium sports viewing. The site is the third HeyDay location overall; and first in Texas, according to Willhite.
"This location is a destination for the surrounding communities looking for top quality entertainment with a focus on excellent customer service done the HeyDay way," she added.
When you walk in the main entrance, you are bombarded by current music and the sounds of arcade games. Off to the right is the restaurant (Double Dave's Pizza Works) and that aforementioned arcade. Immediately you hear the classic clinking sound of air hockey and an electronic spin on 'Centipede,' the classic arcade game. It is bigger, bolder and up-to-date with graphics for three players. Fun!
The arcade has more than 20 games including 'Ice Ball' and a virtual bowling game. There is the mandatory basketball shooting game and some 'drop' games. One can spend hours in the arcade alone.
In addition, there is a ropes course (Sky Trail) above the arcade, which includes a zipline for a freefall across the room. Off the arcade is the entrance to the LaserTron (laser tag) structure. This is a two story, six station situation area for all things 'laser tag.' There is fog and strobe lights, so have at it, if that is your thing.
Located at 5002 Convention Way in Denison, HeyDay is a part of the up-and-coming Gateway Village development, a planned Healthy Lifestyle community that will attract residents and visitors from across the region, according to the company's press release.
The HeyDay eatery features pizza options from Austin based "DoubleDave's Pizzaworks" and the facility offers a full bar service with an innovative specialty cocktail menu, wine on tap and dozens of draft beers.
There are three birthday party rooms off the bowling alley, which is to the left of the main entrance. The 16 lanes are all electronic with scenario bowling available, which also gives you real time stats for your performance. The alley includes a bar for adult beverages and plenty of seating for spectators. You can even order from the restaurant and have the food delivered to your party at a table in the bowling lounge.
Upstairs is the adult level fun, which includes the 'Revolution' lounge that has an observation area overlooking the bowling lanes. There is a full bar, shuffleboard and pool for entertainment fun. There are also televisions, lounge chairs, couches and plenty of tables. In addition, there are eight more bowling lanes for adults to enjoy the sport as well away from the younger players.
Willhite added that the exciting environment of HeyDay Entertainment also features private event spaces and discounted group package options to provide the perfect atmosphere for every occasion including corporate events and meetings to fundraisers and team building activities.
HeyDay was recognized as 2015's Top Family Entertainment Center (FEC) of the World by the International Association of Amusement Parks and Attractions and has been honored with numerous local and regional awards including Best Family Entertainment, Best Place for a Night Out and Best Place for a Kid's Party, according to the release.
About HeyDay Entertainment
HeyDay Entertainment, headquartered in Norman, Okla., has operated family entertainment centers focused on bringing communities together by offering fun attractions for all ages since 2007. HeyDay Entertainment offers an impressive selection of high-quality food and beverage items, combined with bowling, laser tag, ropes course, miniature golf and an impressive variety of arcade games. HeyDay's adults-only bar and lounge, Revolutions, offers a unique option to watch sporting events and enjoy dedicated bowling lanes and billiards. The exciting environment of HeyDay Entertainment also provides the perfect setting for birthday parties, corporate and group events. For more information, visit www.heydayfun.com.