School News
Richland College students graduate from AWS re/Start
Nov 3, 2019
Cloud support program offered through a collaboration between Generation, AWS re/Start, and DCCCD
Garland, Texas -- Next stop: The Cloud. The ever-popular destination for all things technology will soon have a new batch of workers. Recently, ten students from Richland College's Garland campus graduated from the Amazon Web Services (AWS) re/Start program. AWS re/Start is a full-time skills development and training program that prepares individuals for careers in the cloud and connects them with potential employers. AWS re/Start, in collaboration with the global non-profit Generation, delivers a learning experience that prepares students for careers in cloud computing.
The ceremonial walk across the stage by the second cohort of students comes after 12 weeks of immersive instruction that includes scenario-based learning, labs, and coursework. In addition to IT fundamentals and introductory cloud skills, learners are trained in adaptive communication, time management, and collaboration; all a part of this cloud career enablement program offered by a collaboration with AWS re/Start, Generation and Dallas County Community College District.
"The program is intense. These students work unbelievably hard. Many have night jobs and families," said Manny Romero, director of community programs for Richland College. "They've basically had to place their lives on hold while putting in the work to ensure a brighter future."
The program, which is free for students, is funded by Workforce Solutions Greater Dallas through Workforce Innovation and Opportunity Act (WIOA) Youth and adult education and literacy grants supported by the District's WorkReadyU.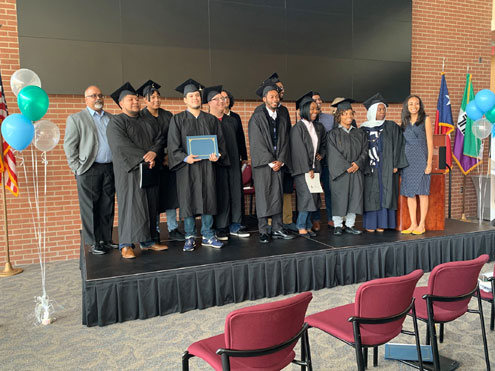 "It's been a tough 12 weeks, but I finally have my [AWS Cloud Practitioner] certification," said William Norman Jr., a graduate of the program. "I'm so excited for all the doors that this will open for me. This is just the first step. I'm so ready and hungry to learn more."
Norman's goal now is to land a job where he'll gain the experience necessary for his next educational adventure. He already has his sights set on completing the AWS Certified Solutions Architect Associate certification, also offered by AWS.
Graduates will be able to attend job fairs with tech companies and tap into Generation's model, that includes connecting graduates of programs with employer partners.
Cloud-related jobs include tech cloud support technician with a starting salary of $40,000 to $55,000 a year, depending on previous experience and certifications.
AWS re/Start's next cohort is expected to begin in January 2020.
Richland College is also a member of AWS Academy which provides a free, ready-to-teach cloud curriculum to higher education institutions to prepare students for careers in the cloud.
The graduation comes on the heels of a separate collaboration between AWS and community colleges across Texas which will produce one of the nation's first offerings of an associate of applied science degrees in cloud computing offered by a community college. The two-year program is expected to roll out spring 2020, pending approval by the Texas Higher Education Coordinating Board (THECB).
Additional details can be found here: https://www.dcccd.edu/news/2019/pages/viewnewsitem.aspx?NewsItem=47
For more information about AWS re/Start's program at Richland College, please contact Celes Oppedahl, dean of student services at (214) 360-1246 or by email at celes@dcccd.edu.