Lifestyles
November activities at Hagerman National Wildlife Refuge
Nov 16, 2019
Calling All Gardeners: Volunteers Needed to help with Butterfly Garden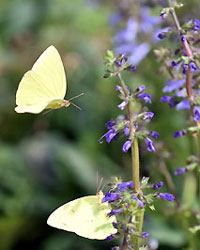 Love to work in the garden? Come and help us add plants, weed and mulch our beautiful butterfly garden. Join our team that is on call for Wednesday morning gardening. Provide own tools and gloves. Minimum age 18, or 16 if accompanied by parent/volunteer. Garden volunteers get first dibs on thinned plants as well as access to seeds and cuttings for propagation. Email for dates, times and details: friendsofhagerman@gmail.com

The Refuge Rocks: Talkin' Turkey, Saturday, November 16 10:00-11:30

Two Groups With Age Appropriate Activities: Ages 4-6 and Ages 7-10

Did you know that Benjamin Franklin wanted the national bird to be a wild turkey rather than a bald eagle? He did! Ben voted for the turkey, but was outvoted, so our national bird is the regal bald eagle! You might eat turkey at Thanksgiving, but did you know that lots of turkeys live in the wild. In fact, they're commonly called wild turkeys and live all over the United States, including here at Hagerman NWR. In our Talkin' Turkey class, the youth will discover what the real lives of wild turkeys are like. They'll learn about hens, toms, caruncles, wattles, and snoods. Children will even learn how to do the turkey strut and learn the turkey call! Each student will make a terrific turkey craft to take home and have fun participating in turkey games and activities. Come join us on November 16 for a free class to learn all about our resident wild turkeys! To sign up - call the refuge at (903) 786-2826 or sign up on the web at www.friendsofhagerman.com/contact.

Nature Photography Club meeting – Saturday, November 16 1:00-2:00 PM

Do you love to photograph nature at Hagerman NWR? Join us for the Photo Club meeting. The Nature Photography Contest winning photos will be presented. The meeting program is still pending. Please check the Friends of Hagerman website for latest information. The meeting is free and open to the public.

Adopt-A-Nestbox: Sunday, December 1st through January 31, or while supplies last.

Help the plight of the Eastern Bluebird while learning all about their nesting habits! For a small donation, your adopted nestbox will have your name on it and you'll receive an email every week with a picture of the inside and an explanation of everything happening in the nestbox. Great Christmas gift, especially for children. For more information call (903)786-2826 between the hours of 9 am - 4 pm Monday - Saturday or 1 - 5 pm on Sunday.

Outdoor Crew: Saturday, November 23

Do you enjoy working outside, mowing, sprucing up hiking trails, trimming and removing brush and general cleanup? Join the Outdoor Crew at Hagerman National Wildlife Refuge. The Outdoor Crew meets on the First Tuesday and Fourth Saturday of every month. Please email friendsofhagerman@gmail.com for details and to join our team. Scouts welcome!

Refuge Van Tours: Come and See the Geese!

Enjoy a 60 – 90 minute tour along Wildlife Drive at the Refuge. Learn about the history of the displaced town of Hagerman while watching for wildlife.

Lots of stops for bird-watching and photography. Free (donations accepted). Guided tours are offered at 2 p.m. on Saturdays and Sundays, weather permitting. Seating is limited: please call (903)786-2826 between 9:00am and 4:00pm, Mon-Sat, for reservations. Standbys are accepted if space permits. Tours are recommended for age 6 - adult.