Sports
Fishin' with Stubby
Sep 20, 2019
Alba, Texas -- Stubby Stubblefield is a big guy with a colorful personality who wears a bright yellow ball cap you can easily spot from a 1/2 mile away on a sunny day at Lake Fork. Don't be fooled by his cartoon character-like name, though.
Stubblefield doesn't clown around when it comes to catching channel catfish. In fact, the only thing he might take more seriously is getting the secret blend in his homemade catfish bait just right before he slaps his trademark logo — Stubby's Cheese Bait — on another plastic tub.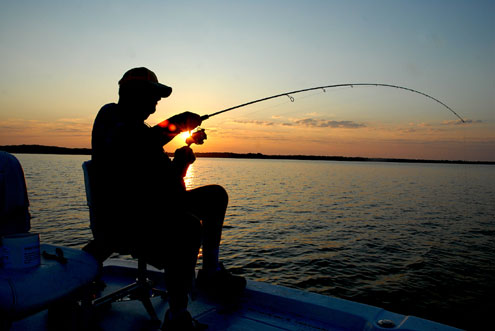 Stubby Stubblefield is hard at work as another scenic sunrise falls on Lake Fork. (photo by Matt Williams)
Stubblefield, 68, hasn't always been such a catfish nut. The former commercial roofer from Mansfield has worked hard most of his life and spent his time off competing in a few bass tournaments or pleasure fishing for whatever happened to be biting best from one day to the next.
Some huge tasks were thrown in his company's path over the years. Among the biggest was putting a new lid on the Mercedes-Benz Superdome after Hurricane Katrina wrecked New Orleans in August 2005.
Health reasons forced Stubblefield to retire from the roofing business in 2007. That's when he relocated to the shores of Lake Fork, where he now works part-time as a catfish guide, builds a few fishing rods on the side and cranks out hundreds of pounds of the dough-type catfish bait each year with the help of his wife, Sandy.
To hear Stubblefield tell it, the couple's ongoing stint in the catfish bait business came about as sort of an accident soon after he retired.
"I started out just making it for myself, mainly to use in my guide business," he said. "But word spread pretty quick once my customers started talking about the bait on the fishing forums and how well it works."
As time passed, the phone began to ring more and more often. Text and private messages started rolling in almost daily from anglers wanting to try the bait at their favorite whiskered fish haunts.
"I finally asked my wife if she wanted to start another business and she was all in," Stubblefield said. "The rest is history."
The catfish bait business has since blossomed into somewhat of a pleasant surprise for the Stubblefields.
Early on they were hand-mixing about 100 pounds of bait at a time and peddling it to fishermen and a few bait shops around Lake Fork. Today, the couple does the dirty work from a small storage building just down the road from their lakeside RV. They use a commercial mixer to crank out 400-500 pounds of the cheese bait in about 6 hours.
Stubblefield claims he has sold more than 5 tons of the cheese bait over the last five years, much of it through his Facebook page and a growing list of vendors including more than dozen marinas, bait shops and hardware stores across northeast Texas. Most are selling the bait in 40-ounce jars and 1-gallon pales.
"The last three years have been incredible, but it has really blown up over the last year," he said. "We're shipping to fishermen in nine different states."
Sweet-smelling road to success
There's always a reason behind every good success story, and Stubblefield's is built around several.
Most importantly, the bait is deadly on channel catfish as well as blues. It works well soaked on bottom or suspended using a cork. Plus, it stays on the hook extremely well, has a long lifespan in the tub and doesn't leave a nasty stench on your hands, clothes or in your boat.
The latter makes Stubby's somewhat of anomaly in a market that is ruled by baits with unpleasant odors that Lava soap or a car wash may not erase on the first try.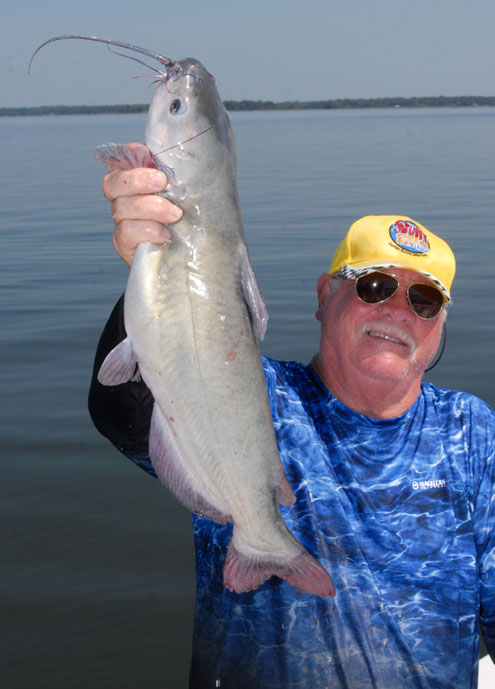 TPWD biologist Jake Norman says Lake Fork is a channel catfish factory with an abundant population of fish 20 inches or larger. Here, Stubblefield hoists a solid fish caught on his homemade bait — Stubby's Cheese Bait. (photo by Matt Williams)
A common belief among catfishermen is the worse the odor the better a bait will appeal to the channel cat's keen sense of smell. Stubblefield claims it just isn't so, and he's got the goods prove it.
He makes the bait from a special blend of ingredients including cheese and maize, then mixes it with a powdered scent to give it a unique aroma that isn't near as offensive to the human olfactory bulb as many of the other manufactured baits out there, yet it still catches fish. The guide is so confident in his bait that he offers a money back guarantee to anyone who doesn't like it.
"I haven't had to pay back a dime yet," he chuckled.
Another key trait fishermen often rave about is the bait's consistency. It's thick as cookie dough, holds together well when wet, stays pretty firm in the hot sun and is heavy enough that it will sink slowly without a weight when used with spinning gear.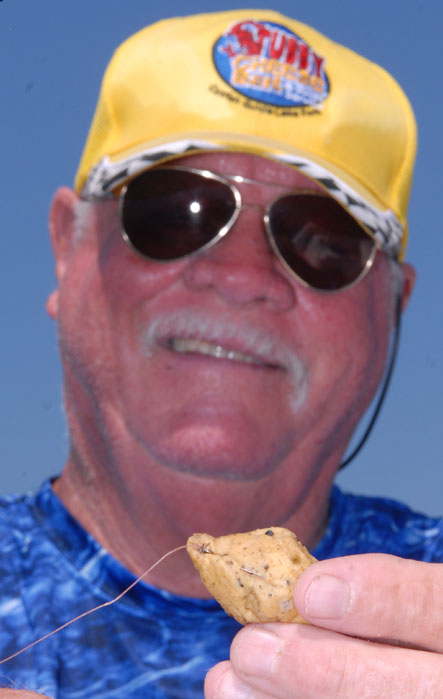 Stubby's Cheese Bait is a dough bait that is scented during the manufacturing process so it doesn't leave a nasty stench on your hands when you handle it. Stubblefield recommends using the bait in combination with a No. 4 treble hook, spinning gear and 30-pound test braided line. The bait is heavy enough that no weight is required to get it to bottom when used with spinning tackle. (photo by Matt Williams)
There is no need for a punch stick, either. Just dig into the tub with your fingers and mold the dough around a treble hook. Stubblefield says it is best to form a bait ball shaped like a bell sinker, making sure to cover the hook shank and all three points.
He prefers to use a No. 4 treble and claims he has caught as many as 60 channel cat from a 40-ounce jar. "I've had guys tell me they caught 100 fish from a single container before, but my guess is they were using a smaller hook."
Stubblefield does the majority of his summer, fall and winter catfishing around underwater ridges, humps, points and creeks in fairly deep water, where channel cat roam in massive schools. He keeps them concentrated to specific spots by dumping 50-pound sacks of range cubes in the areas periodically. In catfishing lingo, this means "baiting a hole."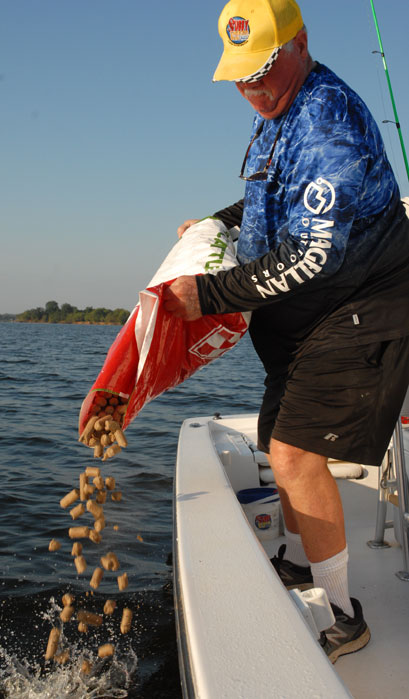 Stubblefield uses cattle range cubes to attract droves of channel cat specific spots and stir feeding frenzies. (photo by Matt Williams)
As tackle goes, he likes to use the cheese bait in combination with a medium/light spinning outfit matched with 30-pound braided line. The dynamics of the spinning reel allows line to peel freely off the spool resulting in a slow fall, while the strong braid comes in handy when a big fish comes calling.
Fork: A channel catfish factory
There are passel of great catfish lakes in eastern Texas like Livingston, Richland Chambers, Cedar Creek, Murvaul, Cooper and Toledo Bend, but Stubblefield probably couldn't have chosen a better proving grounds for his popular cheese bait than Lake Fork.
Widely known for its big bass and outstanding crappie fishing, the 27,000-acre reservoir east of Dallas also maintains what some say is the most prolific channel catfish fishery in the state.
"I cleaned more than 4,000 of them last year," Stubblefield said. "This lake is full of 'em, man. It's got some big ones, too. Fish in the 3-6 pound range are fairly common, but I've caught them as big as 12."
Fisheries biologist Jake Norman of Tyler knows all about Fork's robust channel cat fishery. Norman oversees the reservoir for the Texas Parks and Wildlife Department.
According to Norman, referring to Fork as a channel cat factory is somewhat of an understatement.
"The abundance and size of channel catfish in Fork is truly special, especially compared to most Texas reservoirs," he said. "While high abundance of channel catfish is not that uncommon in Texas reservoirs, high abundance and excellent size structure is not easy to find."
Norman says there are several reservoirs in Texas with robust channel cat populations, but the fish seldom grow beyond 14 inches. Fork is different.
"Lake Fork has a healthy population of fish 20 inches and bigger," he said. "In all honesty, Fork boasts an above average fishery for every common freshwater sport fish Texas has to offer."
Interestingly, Norman says Fork's channel cat fishery is way underutilized despite its world-class quality. He said channel cat are the lake's third most sought after species behind bass and crappie. Whiskered fish typically account for less than 10 percent of total angler effort on entire lake.
"There are a few catfish guides that understand what is swimming in the lake and have great success with their clients, but it seems beyond that the local catfish anglers have the fishery all to themselves."
Stubby Stubblefield sort of likes it that way.
Matt Williams is a freelance writer based in Nacogdoches. He can be reached by e-mail, mattwillwrite4u@yahoo.com.